Boeing's beleaguered 737 Max has taken a big step towards recertification more than 15 months after it was grounded, as it launched on its first official recertification flight.
The aircraft, operating as flight number BOE701, took off from Seattle's Boeing Field at 09:54 local time on 29 June, and headed to Moses Lake, Washington, about 120nm (216km) to the southeast, according to flight tracking website FlightRadar24.
The Federal Aviation Administration (FAA) confirmed the flight, and said it would take "several hours".
The aircraft arrived back at Boeing Field at 14:15 local time.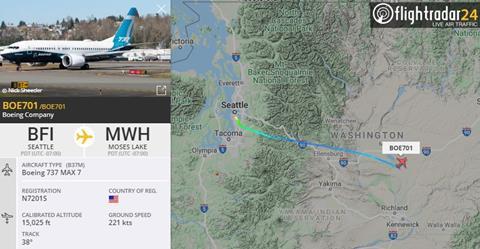 "The FAA and Boeing are conducting a series of recertification flights this week to evaluate Boeing's proposed changes to the automated flight control system on the 737 Max," the FAA writes in a statement.
"The certification flights are expected to take approximately three days. They will include a wide array of flight maneuvers and emergency procedures to assess whether the changes meet FAA certification standards. The tests are being conducted by test pilots and engineers from the FAA and Boeing," it adds..
A day earlier, on 28 June, the FAA had emailed congressional staffers confirming the agency's Type Inspection Authorization Board "has completed its review, clearing the way for flight certification testing to begin".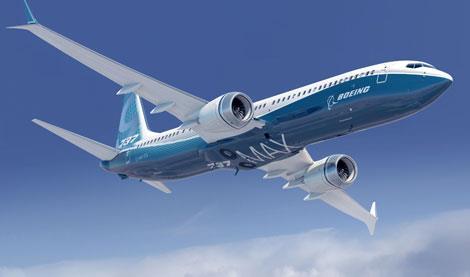 Certification flights are among the final steps prior to the FAA issuing an airworthiness directive (AD) lifting the grounding. The AD will specify measures operators must take before returning the jets to revenue service. Boeing has said it expects the AD will come in time to permit it to resume 737 Max deliveries in the third quarter of the year.
But the FAA warns that though this is an important step in the process, there are still numerous hurdles for the aircraft before it can return to revenue service.
"While the certification flights are an important milestone, a number of key tasks remain," the FAA says. "The FAA is following a deliberate process and will take the time it needs to thoroughly review Boeing's work. We will lift the grounding order only after we are satisfied that the aircraft meets certification standards."
Other steps the FAA must complete prior to certification include issuance of a pilot training assessment by a Joint Operations Evaluation Board (JOEB). That panel is composed of regulators from the FAA and other countries, and pilots.
The type was grounded worldwide in March 2019 after two separate accidents killed 346 passengers and crew.
Updates on 29 June to include the aircraft's return to Boeing Field.