Boeing intends to restart 737 Max production several months before midyear and ahead of the Max's return to service, meaning production could start humming again within three months, Boeing chief executive David Calhoun says on 22 January.
"Production will start… months before that moment in June, because we have to get that line started up again," Calhoun tells reporters on 22 January.
By "moment in June", Calhoun seemingly refers to Boeing's mid-year projection for certification of the long-grounded 737 Max.
"And the supply chain will be reinvigorated even before that," Calhoun adds. "We are going to slowly, steadily bring our production rate up a few months before the… middle of the year."
Calhoun adds that production could start within three months and insists Boeing has no plans to lay off workers.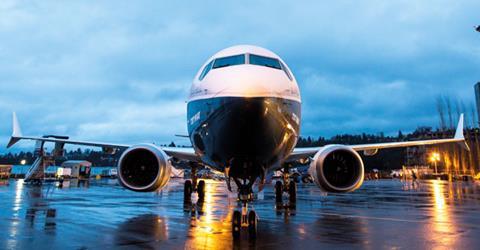 His comments come nine days after Calhoun took Boeing's helm and several days after the company halted 737 Max production in response to uncertainty about when regulators will clear the aircraft to fly.
But on 21 January Boeing disclosed it now expects regulators will certificate the aircraft in "mid-2020".
Calhoun says that timeline reflects Boeing's decision to recommend pilots undergo simulator training – a recommendation the Federal Aviation Administration seems almost certain to adopt.
"That was always going to elongate return-to-service," says Calhoun, adding that the new timeline provides sufficient time "for discourse with our regulator at every level".
Since taking Boeing's helm, Calhoun has talked with "most" of Boeing's big customers and attended meetings at the Pentagon and White House and with the Federal Aviation Administration, he says.
He also pledges a new era of honesty, openness and transparency with regulators and the press.
"I commit to you to be more accessible than the team has been historically," he says.
In the immediate future, Boeing will primarily focus on its existing products, starting with the Max, and on improving safety and engineering, with less immediate attention on development projects.
"I'm going to simplify everything I can… I am going to spend a lot less time in this year drumming vision or creating new initiatives that surround the enterprise," Calhoun says. "I'm just going to focus on the programmes that we have right now."
But he insists Boeing is not "running from research".
The company "might reprioritise" development projects, "but we are not ripping them up".