Boeing confirms it will suspend 737 production in January, a move that comes 10 months after the aircraft's grounding and that signal significantly-broader fallout from a crisis that has already hammered Boeing.
How long the company will halt production remains unknown, as does the duration of the grounding.
"We have previously stated that we would continually evaluate our production plans should the Max grounding continue longer than we expected," says Boeing in a media release. "As a result of this ongoing evaluation, we have decided to prioritise the delivery of stored aircraft and temporarily suspend production on the 737 programme beginning next month."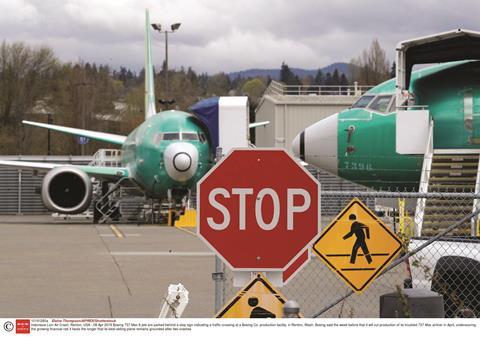 Boeing calls the move the "least disruptive to maintaining long-term production system and supply chain health".
"This decision is driven by a number of factors, including the extension of certification into 2020, the uncertainty about the timing and conditions of return-to-service and global training approvals, and the importance of ensuring that we can prioritise the delivery of stored aircraft," Boeing says.
The airframer says 737 production employees will "continue 737-related work or be temporarily assigned to other teams in Puget Sound".
At the same time as it announced the suspension, Boeing also disclosed its board approved paying a $2.06 per share dividend to shareholders.
Boeing has reportedly completed updates to the 737 Max's flight control system – specifically to the Maneuvering Characteristics Augmentation System, which was a factor leading to two crashes that killed 346 people.
The Federal Aviation Administration has given no timeline for clearing the jet to fly, though it has said that several items, some significant, remain incomplete.
"It's going to be a painful couple of months, for everybody involved," says aerospace analysts Richard Aboulafia of Teal Group. "It isn't a huge surprise, but I would've thought they would lower the production rate rather than suspend output."
"Even though this suspension of production is concerning, it is a prudent thing to do because of this lack of forward visibility," says aerospace analyst Michel Merluzeau with consultancy AIR. "There was definitely a sense that the production needed to be addressed because of… lack of forward visibility from the regulators as to an exact schedule for return-to-flight."
Merluzeau says the production halt raises fresh concerns about Boeing's future – specifically its ability to execute future commercial aircraft plans.
Boeing can still recover if the Max is back in the air early next year, but delays deeper into 2020 would significantly deepen the crisis, he says.
"Everything depends on a positive Max outcome," says Merluzeau.
A halt in production, however short, could ripple through Boeing's supply chain, which includes large suppliers like engine maker CFM International and fuselage maker Spirit AeroSystems, plus untold numbers of smaller parts providers.
Spirit did not respond to a request for comment.
CFM does not specify how it will be impacted by a shutdown, but says it is "working closely with Boeing and our airline customers to ensure the safe return to service of the 737 Max".
"We are partnering with our customers and suppliers to mitigate the impact of the temporary slowdown of the 737 Max production, while protecting the company's ability to accelerate production as needed in the future," CFM says. The engine maker produces the 737 Max's Leap-1B turbofans, and a similar Leap-1A engine for Airbus's A320neo aircraft family.
North American 737 Max customers Air Canada, American Airlines, Southwest Airlines and United Airlines did not immediately respond to a request for comment.
At the time of the March grounding Boeing had been producing 52 737s monthly, but it cut the rate to 42 aircraft monthly in April. Some suppliers, like Spirit, stayed at the 52 rate.
Boeing now has about 400 737 Max in storage.
On 16 December, prior to Boeing's confirmation, Bank of America equity analyst Ron Epstein told CNBC's "Squawk Box" that any production halt would "have a material impact" on Boeing's cash flow.
But he questioned how much money Boeing would save by stopping the production lines, noting Boeing's contracts with many suppliers require the company provide nine-months of notice for rate changes. In other words, Boeing may still need to keep taking 737 supplies, letting them pile up until production resumes.
"In the investment community this would come across as a surprise," Epstein said. "This is seen as… the nuclear option, [an indication] that something really must be wrong."