Boeing is making a supply chain shift that will see Turkish Aerospace and India's Tata Advanced Systems take over 737 fan cowl production from Airbus in around 2025.
The US airframer confirmed on 9 August that Turkish Aerospace and Tata will share equally manufacturing of the 737 fan cowls.
Boeing declines to name the incumbent supplier, but several Spanish media reports and an industry source indicate the components have been produced by Airbus's Spanish aerostructures operation.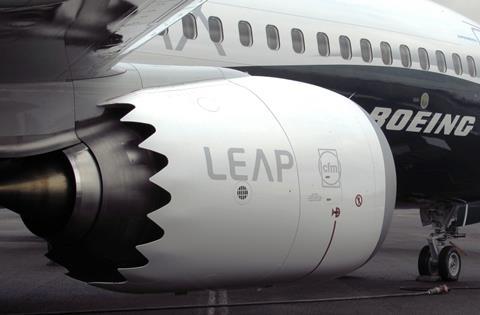 Boeing says Turkish Aerospace will produce the cowls from 2025, with work to be performed at a facility in Ankara.
"The two companies' close industrial collaboration supports the 737 programme's performance and affordability while furthering the longstanding relationship between Boeing and Turkey's aerospace industry," Boeing says.
Tata will likewise start supplying 737 fan cowls from 2025, producing the components in Hyderabad, according to several Indian news outlets.
Boeing says it does not share information about incumbent suppliers. But a source familiar with the supply chain, and various media outlets, say Airbus's aerostructures operation near Cadiz, Spain produces the cowls, having landed that supply agreement in 2013.
Airbus' Spanish operation also makes fan cowls for Airbus A320neo-family jets, which are offered with CFM International Leap-1A powerplants. All 737 Max aircraft are powered by Leap-1B engines.
In June, Spanish news outlet Diario De Cadiz reported that Boeing had decided not to extend its cowl supply contract with Airbus.
Airbus did not immediately respond to a request for comment. The airframer is restructuring its aerostructures division and is examining options for the Cadiz site, including its possible sale.
Boeing, which designs 737 cowls at its South Carolina propulsion site, declines to specify why it made the production shift.
"We are always evaluating our supply chain and needs across the business, and it's not unusual for us to move work across suppliers based on business needs," it says.
Boeing already has extensive operations in Turkey and India. Turkish Aerospace produces 737 elevators and various 787 components – elevators, cargo barriers and wing leading edges – in Ankara, Boeing says.
Last decade, Boeing and Tata formed a joint business called Tata Boeing Aerospace Limited to provide fuselages and other aerostructures for AH-64 Apache helicopters. Tata has also produced 787 floor beams, Boeing says.