Twelve months ago, the future looked bright for the three Western regional airliner manufacturers.
Embraer was close to signing off on a takeover of its commercial aircraft division by Boeing that would have secured the future of the industry's number three player.
ATR was coming to the end of a solid year that would see it deliver 68 aircraft and notch up 79 orders – up 50% on 2018.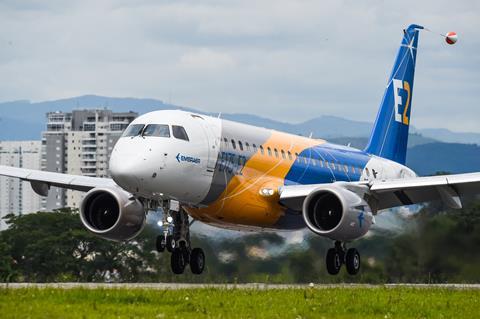 Meanwhile, the sector's newest name, Toronto-based De Havilland Canada, was hoping to inject impetus into the fortunes of the former Q400 programme that parent Longview Aviation Capital had acquired from Bombardier in June of that year, renaming it the Dash 8-400 and adding it to the Twin Otter 19-seat turboprop built in British Columbia by sister company Viking Air.
For all three companies – as for every aircraft manufacturer – 2020 has been about retrenchment, preserving cash, and survival, although there have been glimmers of optimism. Turboprop specialists ATR and De Havilland Canada have turned their attention to freighter conversion programmes, with ATR in September also flying its first new-build freighter, based on the ATR 72-600.
EMBRAER FORCED TO GO IT ALONE
Embraer's commercial aircraft business is under new management – although not the new management it hoped for – after John Slattery's departure to head GE Aviation, to be replaced by former chief commercial officer Arjan Meijer. Boeing's decision in April to abandon its 80% acquisition of the business for $4.2 billion left Embraer furious and likely triggered Slattery's exit.
It has dealt the Brazilian airframer a double blow. Like all manufacturers Embraer has seen sales collapse since the coronavirus outbreak: commercial deliveries fell by 75%, to just nine jets in the first half. Meanwhile, Boeing's investment would have provided the funds for its Brazilian subsidiary to invest in new technologies to continue dominating the regional segment when recovery comes.
One of these is a long-mooted 90-seat turboprop – taking Embraer into direct competition with ATR and De Havilland Canada – but now unlikely in the medium term as preserving cash and finding a new partner becomes vital. In July, Meijer said that, while the case for such an aircraft remained sound, Embraer's priority was weathering the storm: "Then we will think about next steps."
Embraer has also pushed back the entry into service until 2023 of its 80- to 90-seat E175-E2 after the initial flight of the final variant of its trio of re-engined regional jets in December 2019. The first of the larger E190-E2 and E195-E2 were delivered in 2018 and 2019 respectively, and the smallest sibling had been due to follow in 2021.
While a modern jet with that capacity might appeal to many airlines serving thinner routes, a big obstacle for Embraer is US scope clauses which ban regional affiliates of major airlines from operating aircraft with more than 76 seats or a maximum gross take-off weight of more than 39,000kg (86,000lb). The Pratt & Whitney PW1700G-powered E175-E2 falls into that category.
Where Embraer goes from here is uncertain. The company is still banking on its business rationale for the E2s – that they provide a more cost-effective option than conventional narrowbodies for airlines flying thinner city pairs, or bedding in new routes on which flying a large regional jet makes more commercial sense initially.
Bombardier's introduction of the CSeries a decade ago doomed the Canadian firm in the airliner sector – its pockets were not deep enough to compete with discounts offered by Airbus and Boeing. Will Embraer battle on solo, as a small, third player, or will it turn to the Chinese? If so, its ambitions in the defence market would likely mean it once again spinning off its commercial aircraft interests.
FREIGHT PROVIDES COMFORT FOR ATR
Although it is shedding some 200 jobs, ATR's position is less precarious. Owned by aerospace giants Airbus and Leonardo, the Toulouse-based airframer has just two product lines, the ATR 42-600 and larger ATR 72-600, and entered the crisis with a solid backlog. With the cargo market holding up reasonably well, the family's popularity as a freighter provides ATR with cushioning.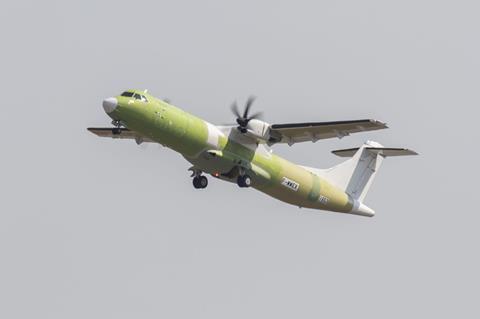 Its first purpose-built freighter, the ATR 72-600F, is now in flight testing, with the programme underwritten by a 2017 order for 30 examples with 20 options from the world's largest parcels company FedEx Express. The variant includes a large cargo door in the forward fuselage as well as an aft cargo door.
The airframer also claims the ease with which some operators – such as Fiji Airways – have converted ATR aircraft for freight operations illustrates the adaptability of its platforms. In May it authorised a quick conversion solution that enabled airlines to "quickly and temporarily" install a light freighter configuration.
ATR is also developing a short take-off and landing version of the 40-seat ATR 42-600, for which Papua New Guinea carrier PNG Air is launch customer. The ATR 42-600S is due for service entry in 2022, and PNG says the variant will allow it to access more remote communities served by unpaved, short airstrips.
The manufacturer is also committing to a low-carbon future and said in October that it plans to announce a series of low-emission initiatives early next year, likely to include a trial using hybrid-electric propulsion. The French government has committed to part-funding the development of a "decarbonised regional aircraft" by 2035.
DE HAVILLAND CANADA EYES FRESH START
De Havilland Canada was still finalising its strategy for its newly-acquired aircraft programme when Covid-19 struck. Like ATR, it has seized the opportunity offered by cargo conversions, with regulator Transport Canada approving until at least next July the Dash 8-400 Simplified Package Freighter adaptation – where seats and seat track covers are removed overnight to provide room for freight.
The company made its maiden delivery of the rebranded Dash 8-400 in June, when state-owned TAAG Angola Airlines took the first of six examples it signed for at the 2019 Paris air show. However, De Havilland's woes started early in the crisis with the collapse of its biggest customer in early March. UK regional airline Flybe had 54 Dash 8-400s, almost 10% of the turboprop's global fleet.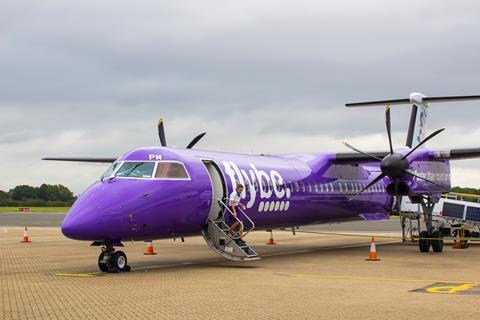 With the type losing favour with several European operators, including Austrian Airlines and Air Baltic, De Havilland Canada is looking to replace them elsewhere. Target markets are Africa and Southeast Asia, where there are efforts to improve connectivity to far communities. The firm sees potential there with a high-density, 86-seat version that can also operate as a "combi" freighter.
With domestic and other short-haul travel likely to rebound quicker than the intercontinental market, the established regional aircraft manufacturers are in some way better placed for recovery than Airbus and Boeing. However, each of the three finds itself in a very uncomfortable position as the industry continues on its turbulent course into 2021.
How commercial airliner programmes and their manufacturers have dealt with crisis
1

2

3

4

Currently reading

Challenges aplenty for established regional airliner manufacturers

5

6