Brazilian airframer Embraer delivered 34 jets during the second quarter of 2021, double the number it delivered in the same period during coronavirus-plagued 2020.
Of the aircraft delivered in the three months ended in June, 14 were commercial aircraft and 20 were executive jets, the Sao Jose dos Campos- headquartered company says on 21 July.
The Brazilian airframer handed over just 17 jets in the second quarter of 2020 – four commercial and 13 executive jets.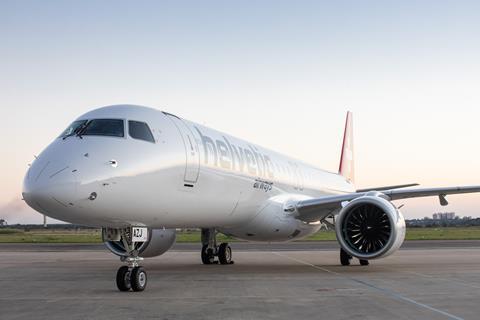 Included in the second-quarter deliveries were seven E175s and seven new-generation E195-E2s.
During the period, Switzerland's Helvetic Airways received the first of four new E195-E2 aircraft. Embraer says the carrier has ordered 12 E2s to support its fleet renewal initiative: eight E190-E2s (already in service) and four E195-E2s (converted from the original E190-E2 order).
The airline also holds purchase rights for an additional 12 aircraft, the company adds.
"As of June 30, the firm order backlog totalled USD 15.9 billion, a 12% increase compared to the backlog at the end of the first quarter, and which represented a return to pre-pandemic levels," Embraer says.
The commercial aircraft backlog at the end of the second quarter holds 306 firm orders comprising 141 E175s, three E190s, five E190-E2s and 157 E195-E2s.
"The current backlog includes the 30 E195-E2 aircraft firm order from Canada's Porter Airlines, which was initially reported as an 'undisclosed' order on April 29," Embraer says. Porter announced its order on 12 July.
In addition to the commercial jets, Embraer also delivered 20 executive aircraft in the three months ended in June: one Phenom 100, 11 Phenom 300s, three Praetor 500s and five Praetor 600s. That's up from 13 executive jets delivered in the same quarter a year ago.