Tighter regulatory attention on Boeing following the 737 Max crisis is causing delays to its 777X programme and could contribute to Emirates switching its orders to the 787, the carrier's president Tim Clark has warned.
Speaking during the Aviation Festival, Clark elaborated on his recent comments that Emirates did not expect to receive is first 777X until as late as 2025 and that the programme was in "a state of disarray".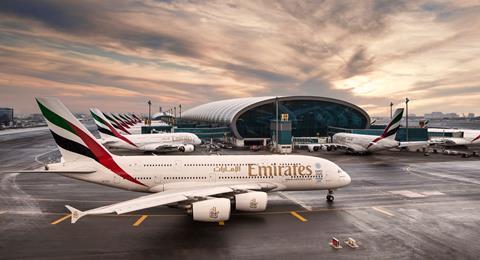 He says that following the Boeing 737 Max crisis, which focused attention on the aircraft's certification process and ultimately required a redesign of some onboard systems, the airframer is "going to have to satisfy regulators under a new regime of aircraft regulation".
This means that the world's various national air safety bodies are no longer automatically following the most high-profile regulators such as the US Federal Aviation Administration in approving designs and work processes.
"One can see lead regulators are no longer being considered good for all," says Clark. "The various regulators across the planet will want to look at the airplane and how its built to make sure it passes muster as far as they're concerned."
Cirium fleets data shows that Emirates has a total of 115 777X jets on order: 101 777-9s and 14 777-8s. Letter-of-intent commitments cover a further 11 777-8s.
Clark complained earlier this month that Emirates had no visibility on delivery timetables for the 777, which should have been introduced at the carrier in June 2020.
But in his latest remarks Clark raises the prospect of switching orders from the 777 to the 787, depending on the performance of the former – noting question marks still remaining over fundamental features such as propulsion.
"Hopefully, we will be having grown-up conversations with the Boeing Company sometime in the next few months, but at the same time we need to know what this airplane is going to do and when it'll be delivered," he says. "When they are able to give us that we can make a decision."
Likely to work in the 777X's favour is that the 777-9 variant will be the largest new aircraft in the world by the time it is delivered, the Airbus A380 having already gone out of production.
The use of generally smaller aircraft globally will raise issues with slot capacity once traffic levels return after the pandemic, Clark believes.
For that reason he adds that "it wouldn't surprise me" if both Boeing and Airbus revisit their product offering at the larger end of aircraft market in the coming years.
Staying with the 777, he says Emirates is looking "very seriously" at converting some of its older -ERs into freighters, noting that they have weight capacities of 90-100t and "huge volumetric capability".
This extra freight capacity could be economical because many airlines have retired or scrapped their widebodies during the pandemic, something that may support cargo rates going forward.