Mitsubishi Aircraft's SpaceJet M90 flight-test vehicle 10 took off on its maiden sortie on 18 March.
The aircraft, FTV10, registered JA26MJ, took off from Nagoya and conducted a series of performance tests over the Pacific Ocean. Two hours later, the aircraft returned to Nagoya.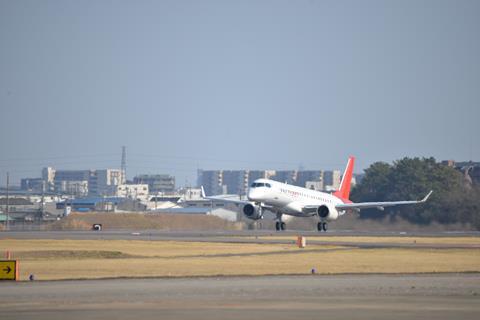 With the aircraft's first flight done, Mitsubishi Aircraft will prepare it for certification flight testing.
"In coming weeks Mitsubishi Aircraft plans to continue flight tests on FTV10 in Nagoya, as well as prepare for the ferry flight to Moses Lake Flight Test Center to join the remainder of the Mitsubishi SpaceJet M90 test fleet for the final phase of type certification flight test," the Japanese airframer states.
Mitsubishi Aircraft chief development officer Alex Bellamy adds: "Today's announcement is especially encouraging, as it marks the start of certification flight testing for the first SpaceJet M90 in final, certifiable configuration."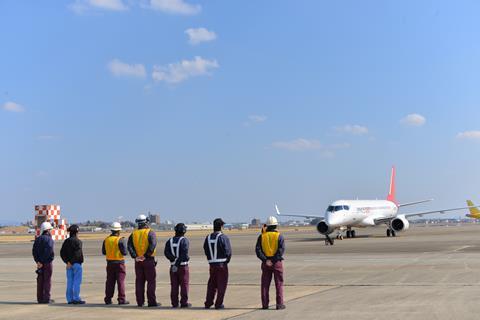 FTV10 is the first such SpaceJet M90 to be produced in what the company calls a "final, certifiable baseline configuration". The airframer previously said that FTV10's first flight was to be a low-key affair, as a result of coronavirus prevention measures. This meant that there was no media activity accompanying the event.
JA26MJ was rolled out by Mitsubishi Heavy Industries Manufacturing in January and handed over to the Mitsubishi Aircraft flight test division. It had been undergoing ground tests including refuelling, engine start, ramping up to full power, and taxiing tests.