Boeing's decision to suspend 737 production in January is unlikely to have an immediate effect on residual values of the aircraft type, but the longer-term outlook is much less certain, in the view of Rob Morris, global head of consultancy at Ascend by Cirium.
"I don't think the temporary suspension has any immediate impact on our residual value outlook per se," says Morris. "Through the period of grounding to today, we have been clear that there is not yet sufficient evidence to justify any change to our base values."But he adds: "We will only see the true picture once the aircraft is returned to service, market acceptance is understood and the customer base – or, rather, any changes to it – becomes increasingly evident."
Boeing's 16 December announcement that it would suspend 737 production in January came 10 months after the aircraft was grounded following two fatal crashes. The duration of the halt in production has not been disclosed and it is not yet known when the Max will be cleared to resume flights.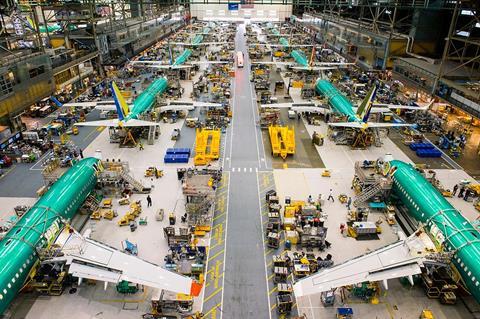 The prospect that the Max will return to service any time soon appears to be dimming. This – combined with softening demand for air travel and the fact that 81 airlines which were expecting to have the Max in service at the start of 2020 are now having to make contingency plans – means there is "massive uncertainty" as we head into the next decade, notes Morris.
He says he was "surprised" that Boeing did not suspend 737 production in October.
"My rationale at the time was that Boeing believed the return to service must be close to achievement and they wanted to avoid making a powerful negative market signal," he says.
However, he adds that the decision to halt production suggests that the airframer has been forced to accept the Max's return to service could be further into the future than it had anticipated.
"The suspension now suggests to me that they have finally accepted they have no control over the return to service process, aside from providing everything the regulators ask for as rapidly as possible. [It also suggests] there is an increasing risk that the return to service could go long into 2020.
"Boeing's decision to halt production is "logical", says Morris, because it avoids building a surplus of single-aisle aircraft at a time when demand is softening.
"IATA put out their December forecast last week which indicates global traffic growth of only 4.2% in 2019 and predicts 4.1% in 2020. The latter is on a capacity growth of 4.7%, so there is a surplus of supply over demand," notes Morris.
"Our own estimates were for even higher capacity growth in 2020 – perhaps as much as 8% or greater, although we need to re-compute this in light of this latest Max scenario. It will undoubtedly reduce."