Cash-needy airlines are relying more on efficient single-aisle aircraft to help them survive the coronavirus crisis, which is helping to maintain the value of aircraft such as the Boeing 737-800.
The nearly year-and-a-half-long grounding of the 737 Max has further helped the value of 737-800 jets at a time when airlines still need to operate flights but cannot afford to take delivery of new aircraft.
Even if the 737 Max is recertificated by the third quarter this year, as US Federal Aviation Administration prepares to issue its airworthiness directive in the coming days, there will be a considerable lag between the aircraft being recertificated and returning to active service. That lag time may further enhance the value of the global fleet of 737-800 aircraft, said Olga Razzhivina, director of aircraft appraiser Oriel, during a 21 July Bloomberg Intelligence webinar.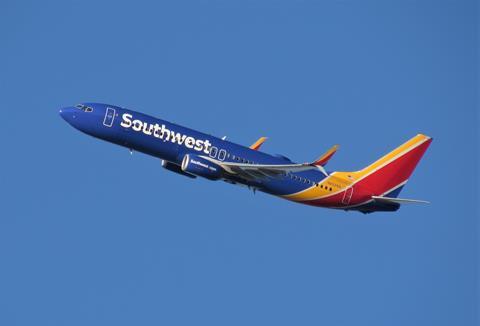 "The 737-800s, especially the younger vintages, are benefitting from the Max factor," says Razzhivina. "They're staying [in fleets] longer and replacing those aircraft that would have been delivered [during this period]. For the older vintages [of 737-800 aircraft], yes, there is a drop in value. We have seen several announcements of large-scale fleet retirements."
Airlines with 737-800 jets in their fleet have little incentive to replace them considering the return to 2019 demand is not expected anytime soon. Financing unwanted on-order aircraft is also near the bottom of airlines' priority lists.
"[For airlines that are customers of Boeing], there is the consideration of how soon airlines want or can take on [737 Max jets] given their restricted cash flow and the necessity to finance those aircraft, and [with] financing becoming far more expensive now as the whole industry has become more risky," Razzhivina says.
Values of Airbus A320 jets – the prime competitor of the 737-800 – do not stand as much to gain from a lag in the return of the 737 Max.
"Most of the airlines that are receiving the Max are existing 737NG operators," Razzhivina says. "The older vintages of the A320s are likely to lose value permanently."
As for twin-aisle aircraft values, Razzhivina says that sector did not go into the coronavirus crisis from a very strong position to begin with. "It didn't help that recently out-of-production [twin-aisle aircraft types] had a very high production rate hike eight to 12 years prior [to the pandemic], which meant that [a lot] of aircraft were coming back off their first leases [while] the production of new aircraft was still very rampant."