Turboprop manufacturer ATR has highlighted the difficulty of establishing a supply infrastructure for next-generation aviation fuels in remote areas that are served by regional aircraft.
Establishing a global infrastructure for the production and distribution of more environmentally friendly fuel – be it sustainable aviation fuel (SAF), hydrogen or electrical power – is a central challenge for the aviation sector as a whole in its effort to move away from the traditional, fossil-based kerosene.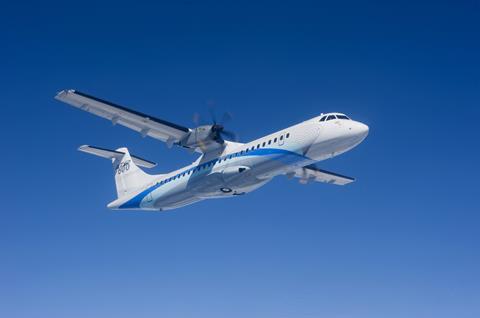 "It will take time," said ATR senior vice-president commercial Fabrice Vautier in a podcast hosted by the airframer. "It will take even more time for our product [because] we operate in very remote areas. Before you can bring these new sources of energy to small islands [and] small communities, it will take time," he adds.
Much of ATR's business in recent years has been with operators serving small islands or remote areas with limited ground transport infrastructure. A short take-off and landing (STOL) version of the ATR 42-600 currently under development – deliveries are scheduled to begin during second half 2022 – is testimony to that demand.
Vautier says that these operators provide essential transport links to remote communities. "[If] you remove them, you remove essential services and [economic activity] for many people," he says.
The Toulouse-based manufacturer, which is jointly owned by Airbus and Italian aerospace group Leonardo, asserts that the ATR 42-600 and ATR 72-600 burn 40% less fuel than similarly sized regional jets on routes of 300nm (550km).
Vautier describes that benefit as a "starting point" in the aviation sector's decarbonisation effort. "We intend to reinforce that advantage over years…with disruptive technology," he says.
In the meantime, ATR predicts that replacement of ageing legacy turboprops will provide demand for its production line during a recovery from the pandemic.
Vautier estimates that nearly 900 turboprops with 30-50 seats will need to be replaced by 2028. A replacement wave for 70-seat turboprops will follow thereafter, he says.
The ATR 42-600 is the sole Western-built 50-seat turboprop still in production. The ATR 72-600, which accommodates 78 passengers, competes against the slightly larger De Havilland Canada Dash 8-400.
In February, the Canadian manufacturer said that it would, during the first half of this year, "pause" Dash 8 production for an unspecified period, citing "the impact of the pandemic on demand for new aircraft globally".