Once there was an aircraft maker called Boeing that was admired worldwide as a leader in just about everything it did, hailed as the very model of an engineering-led company guided by a belief that aircraft should be flown by pilots, assisted by computers. For good measure, it was admired as a leader in commercial aircraft development and sales – and as a financial leader, both in annual profits and stock price gains.
Boeing may still be most of those things, but 2019 was a year when many people suddenly wondered what went wrong. Because, more may have gone wrong than two 737 Max 8 crashes that took 346 lives.
The first of those aircraft – a Lion Air 737-8 – went down in October 2018. Far from seeing a tragedy rooted merely in engineering shortfalls, some observers are tracing the failure to shifts in corporate culture dating as far back as the mid-to-late 1990s, when Boeing acquired McDonnell Douglas and, this theory goes, its culture began flexing to emphasise – perhaps excessively – such finance-centric concepts as "shareholder value". In any case, the McDonnell Douglas deal marked a transition between the rock-solid success of the 777 and the conception and development of the 787, a highly popular widebody characterised by outsourced design and supply – and no shortage of technical problems.
But the direct genesis of the Max's issues was at the beginning of this decade, when, facing pressure from Airbus's A320neo, Boeing decided to equip its 737NG with newer, larger and more efficient engines to make the 737 Max. That move set in motion development of the maneuvering characteristics augmentation system (MCAS) flight controls, designed to pitch the Max's nose down to counter unwanted upward pitch caused, in extreme circumstances, by the new engines.
MCAS, as initially developed, relied on only one of two angle-of-attack (AOA) sensors at a time, and could activate if that sensor failed. Boeing has said it expected pilots to react to such a situation by performing a few cockpit memory items.
The October 2018 crash of Lion Air flight 610 triggered a fantastic chain of events. Before the crash, Boeing's stock was trading just shy of $390 per share, up by a factor of nearly three in just two years. The 737 Max was a hit, with some 4,600 jets on Boeing's orderbook, according to Cirium fleets data. Meanwhile, Boeing was developing the 777X and hinting that a new widebody, known as the New Mid-market Airplane, was in the works.
The Lion Air disaster raised questions about the previously unknown MCAS. But Boeing, and the US Federal Aviation Administration (FAA) with an airworthiness directive, assured the world that pilots, now more informed, would prevent a repeat. Boeing's stock surged even higher, to $440 per share in the days before 10 March – when Ethiopian Airlines flight 302 crashed after take-off from Addis Ababa.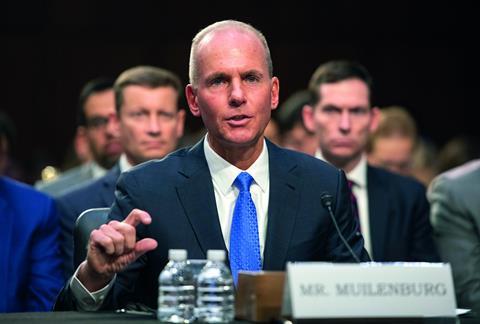 World regulators quickly reacted by grounding the Max. Boeing slashed 737 production and began stockpiling finished aircraft, taking a $4.9 billion charge related to the Max. New problems with the type's flight-control system came to light. News broke that Boeing failed to outfit early examples with a supposedly standard AOA sensor disagree warning.
Orders slowed, though a 200-aircraft commitment from IAG was announced at the Paris air show. Multiple government entities launched investigations into the Max's certification. The US Congress, eager to learn how and why MCAS came to be, hauled FAA officials and a contrite Dennis Muilenburg (below left) – both chairman and chief executive – through hearings, some of which played like public chastising. Boeing's board stripped Muilenburg of his chairmanship and overhauled the company's internal structure.
Former Boeing Commercial Airplanes chief Kevin McAllister resigned, replaced by Stan Deal. Airlines logged hundreds of millions of dollars in lost revenues. Victims' families sued Boeing, as did Southwest Airlines pilots. A Canadian regulator reportedly recommended MCAS be stripped from the Max altogether.
Some safety and operations experts insist pilot, maintenance and airline shortcomings played a far larger role in both crashes than has been reported. They have expressed broader concern about inadequate pilot training and their ability to fly an aircraft when systems go awry.
Indonesian safety investigators attributed the Lion Air accident to factors including Boeing's MCAS design and certification, but also said maintenance and pilot shortcomings played a role. The Ethiopian crash report is not yet out. Boeing has accepted its MCAS design was flawed and promises that its fix will address all shortcomings.
Wall Street has largely stood behind Boeing – the company's stock continues to trade in the mid- to high-$300s per share, roughly the same range as it was before the first crash. Financial analysts expect a Boeing rebound if the Max is returned to flight soon.
How fast Boeing's reputation rebounds is harder to predict. The two Max crashes have unleashed some harsh criticism which, if valid, point to problems like arrogance and hubris – much harder to fix than software and sensors. One source familiar with Boeing's dealings with regulators describes its executives as having in the past displayed an "I'm-the-smartest-person-in-the-room" attitude.