The Royal New Zealand Air Force (RNZAF) has temporarily halted flight operations with its NH Industries NH90 helicopters following the fatal crash of an Australian MRH90 Taipan on 28 July.
The RNZAF's NH90 flying moratorium will last for 48h and comes after Australia moved from an "operational pause" to a "cessation of flying" for the MRH90, says the New Zealand Defence Force. MRH90 is the Australian designation of the NH90.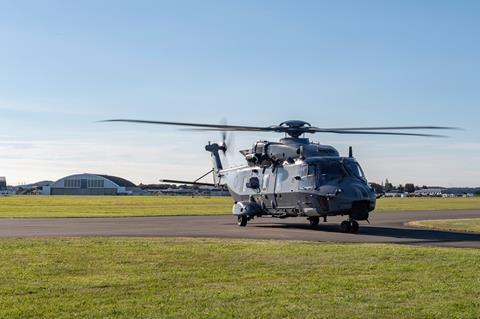 "On Monday night the Australian Defence Force formally revised its position on their fleet of Taipan helicopters, going from an operational pause to a cessation of flying," says RNZAF chief Air Vice-Marshal Andrew Clark.
"While the RNZAF has no current reason to believe our NH90s are not safe to fly, as a precautionary approach we decided to pause our flying for 48 hours to carry out a risk assessment. At the end of that time, we will make a decision whether to resume flying or not."
The RNZAF distinguishes between an "operational pause" and a "grounding", noting that the latter is a formal declaration by regulators that an aircraft type cannot fly. Should an extreme situation arise that requires RNZAF NH90s to be flown, the type can still conduct operations.
Four crew were killed when the Australian MRH90 crashed off the coast of Queensland while participating in the Talisman Sabre exercise. Three of New Zealand's eight NH90s are in Australia for Talisman Sabre.
While the bodies of the missing crew have yet to be recovered, wreckage from the helicopter has been found. On 31 July, defence minister Richard Marles referred to the crash as "a catastrophic incident".
"The search is still underway for our four missing air crew in the Whitsundays, that is continuing," said Minister for Defence Personnel Matt Keogh during a 1 August radio interview.
"It's involving divers, it's involving multiple navy vessels as well as aircraft, as well as the support from the United States and Canada and the civilian authorities in Queensland. We're not in a position to go into details of what that is uncovering, but also it's not very helpful, I think, to speculate about how that will unfold."