US regional carriers remain in limbo because many of their aircraft have not received exceptions to Federal Aviation Administration rules about landing during inclement weather conditions at airports that could experience interference from new fifth-generation (5G) cell phone networks.
Many large aircraft have received exemptions from FAA's Notices to Air Missions (NOTAMs) that prevent some operations at some airports. But many smaller aircraft have not. Regional airlines are feeling the effects.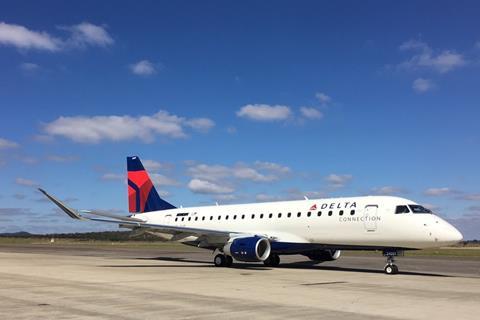 "Weather conditions at some airports led to a small number of flight cancels and diversions this morning as a result of 5G implementation," Utah-based regional carrier SkyWest Airlines tells FlightGlobal on 20 January.
"We will process changes as soon as we receive the FAA's mitigations for our [Embraer] E175 aircraft in low-visibility conditions," the carrier adds. "We are hopeful the FAA will provide additional mitigation for the rest of our fleet soon. The potential for ongoing operational impact remains until full mitigations can be put into place for all commercial aircraft."
According to flight tracking website FlightAware.com, a SkyWest E175 flying from Boise, Idaho to San Francisco diverted to Reno, Nevada early in the day because it could not land in those weather conditions under the FAA NOTAM.
The aircraft's flight track showed it holding north of the San Francisco Bay area before heading to Reno, landing there more than two and a half hours after it took off. It's scheduled arrival time in San Francisco was 7:30am Pacific Time. As of 11:45am Pacific time, it was still waiting in Reno to depart for San Francisco.
FlightAware also showed a SkyWest flight from Santa Ana, in southern California, to San Francisco attempted to land, but was unable to, and diverted to San Jose. That aircraft remains stuck there as well.
In the past days, Regional Airline Association (RAA) chief executive Faye Malarkey Black has repeatedly warned that regionals were "left out of important aviation discussions" about the 5G roll-out and its impact. Regional airlines, she says, offer the only source of commercial air service at 66% of US airports, and operate 43% of all departures.
The FAA says on 20 January that 78% of the US commercial fleet has been approved for low-visibility approaches in 5G deployment areas. Aircraft types which may now fly despite the NOTAM warnings include: Boeing 717s, 737s, 747s, 757s, 767s, 777s, 787s and MD-10/-11s, Airbus A300s, A310s, A319s, A320s, A321s, A330s, A340s, A350s, A380s and "some Embraer 170 & 190 regional jets".
Malarkey Black confirms E170s and E190s received their so-called "Alternative Means of Compliance" approvals earlier in the day, and operators are currently reviewing the details.
The Brazilian airframer says that the FAA's exemption applies to the entire family of aircraft, including E175s and E195s.
The conflict stemmed from US telecoms companies AT&T and Verizon's plans to begin transmitting in the C-Band as part of new fifth-generation networks across the nation this week. The battle pitted the Federal Aviation Administration against the Federal Communications Commission, which authorised the 5G launch. Fearing interference with aircraft radio altimeters, the FAA prohibited aircraft from completing low-visibility landing at airports near 5G towers.
That led the aviation industry to warn of massive disruption starting 19 January, when AT&T and Verizon switched their networks on.
Updates on 20 January to include a statement from Embraer that E175s and E195s are included in the FAA's exemptions.