Hong Kong investigators have found that a software issue in a number of Boeing 787 autopilot flight-director systems led to a series of flightpath deviations in 2019.
Releasing final reports into the four incidents, the Air Accident Investigation Authority (AAIA) of Hong Kong found that the aircraft deviated from the localiser courses during ILS approaches to land at Hong Kong international airport.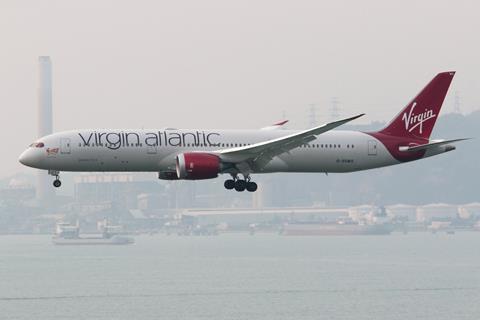 The four incidents occurred from July to October, involving 787s operated by Virgin Atlantic, Etihad Airways and Ethiopian Airlines. The aircraft were on approach to runway 25R when they deviated from their flightpaths towards terrain in the north, overshooting the intended heading.
The AAIA also found that three of the 787s had descended below the minimum sector altitude, of which two (operated by Virgin Atlantic and Ethiopian) were asked to go-around.
Runway 25R is currently closed as part of airport expansion works, and was redesignated as a centre runway, 25C/07C, in 2021.
Flightcrew on the four flights disengaged the autopilot and assumed manual control to land the aircraft at Hong Kong. The AAIA found that in the four incidents, no enhanced ground proximity warning systems were activated, and that no injuries or aircraft damage were reported.
Autopilot flight-director systems were the likely cause, the AAIA found; Boeing has since developed a software solution to fix the anomaly, it says.
The first of the four incidents took place on 18 July 2019, involving Ethiopian Airlines 787-8 (ET-ASG), which was operating flight ET645 from Manila.
The second incident occured on 7 September, involving an Etihad 787-9 (A6-BLF) operating flight EY834 from Abu Dhabi. This was followed by two incidents involving Virgin Atlantic 787-9s (G-VBOW and G-VOWS), taking place just weeks apart.
In July 2022, the international pilot federation IFALPA urged crews to be cautious when conducting approaches to Hong Kong's new third runway, owing to potential weather effects and the proximity of terrain.