An Aeromexico Embraer 190 was hit by gunfire at the airport in Culiacan, Mexico following violence after a suspected drug trafficer was arrested in that city.
"This morning a crew detected a bullet impact in the fuselage of an Embraer 190 that was ready to operate flight AM165 on the Culiacán-Mexico City route, which was [then] cancelled for reasons of security," Aeromexico said on 5 January. "The plane never started its take-off roll. Following this incident, the company's protocols were activated and the corresponding authorities were notified, with whom we will coordinate the investigations."
All crew and passengers are safe, the airline adds. Culiacan is in the Mexican state of Sinaloa.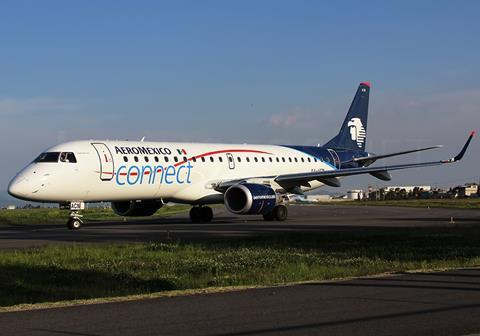 Several media outlets have linked the gunfire to the arrest by Mexican authorities on 5 January of alleged drug trafficker wanted in the United States. FlightGlobal has not confirmed that link, and details remain unclear.
The arrest, also in Sinaloa, comes just days before US President Joe Biden is due to visit the country for a North American Leaders' Summit.
Meantime, the Mexican Federal Civil Aviation Agency (AFAC) adds that an aircraft of the Mexican Air Force was also hit by gunfire on 5 January.
AFAC says airports in the western Mexican cities of Culiacan, Mazatlan and Los Mochis have all been closed to the public for security reasons.
"Given the events that occurred early Thursday morning, the AFAC instructed the airport leaders to summon the members of their respective Airport Security Committees to coordinate operations and deal with any act that could be carried out by organised crime," AFAC says.
It adds that 32 commercial operations have been cancelled at the Mazatlan International airport (26 national and six international flights). In Culiacan, 70 commercial operations (62 national passenger flights and eight cargo flights) have been suspended.