Singapore's Transport Safety Investigation Bureau is investigating an engine fire on an Airbus A320neo operated by Air China.
The aircraft (B-305J) was operating flight CA403 from Chengdu to Singapore when the incident – involving the narrowbody's No. 1 engine – occurred.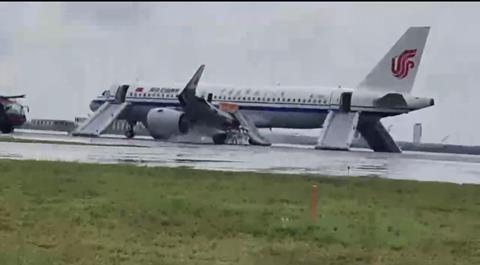 The Civil Aviation Authority of Singapore (CAAS) says the aircraft's flight crew had declared an emergency, after smoke was detected in its forward cargo hold and lavatory.
The narrowbody landed at Changi Airport at around 16:15 local time, where emergency services put out the engine fire.
The aircraft – powered by two Pratt & Whitney PW1100G turbofans – was carrying 146 passengers and nine crew members. Nine passengers reportedly suffered injuries during the evacuation, the CAAS adds.
The incident shut Changi's Runway 02R/20L for more than three hours, while the disabled aircraft was towed away.
The aircraft (MSN8594) was assembled in Airbus' Tianjin final assembly line and delivered to Air China in December 2018. It is the 400th A320-family aircraft to be produced by the Tianjin facility.