JetBlue Airways plans to reduce its summer flight schedule in New York – with more airlines expected to follow – in response to the FAA's concession that it lacks enough air traffic controllers to handle the expected seasonal air travel peak.
Attempting to avoid the congestion, delays and cancellations that plagued US airports during the chaotic 2022 summer travel season, the FAA recently took the unusual step of allowing carriers to temporarily vacate some allocated take-off and landing slots at major Northeast hubs during upcoming summer months.
Airlines can leave up to 10% of assigned slots unused without the risk of losing them to competitors, the FAA says.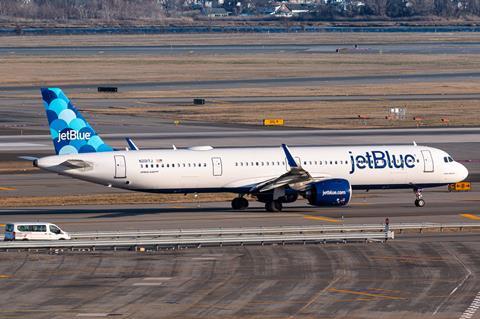 JetBlue has already said it will cut flights to New York in response to the ATC shortage. Robin Hayes, JetBlue's chief executive, recently told national media that "the system is not going to be workable this summer" if airlines do not cut flight schedules in the region.
The FAA is offering "limited conditional" slot waivers at John F Kennedy International airport, New York's LaGuardia airport and Ronald Reagan Washington National airport near Washington, DC. JetBlue, Delta Air Lines and United Airlines are expected to file requests for waivers – which will last from 15 May through 15 September – prior to the 30 April deadline.
"To help prevent disruptions, the agency will give airlines flexibility on slot usage requirements," the FAA said on 22 March. "In turn, the FAA expects airlines to take actions minimising impacts on passengers, including operating larger aircraft to transport more passengers and making sure passengers are fully informed about any possible disruptions."
"The airspace complexity resulting from the close proximity of the major commercial airports serving the New York City region is a significant contributing factor to delays" at the region's three major airports, the FAA adds.
Due to the FAA's emphasis on the use of larger aircraft, routes to smaller cities operated by regional jets are likely on the chopping block. The US regional airline industry is already struggling with a pilot shortage that has forced airlines to ground aircraft and to reduce air service to small and mid-sized airports.
Reduced airline operations to and from New York could particularly impact JetBlue, which is based in the region. In March, the airline made nearly 6,000 departures from JFK alone, according to Cirium data.
The FAA says it is reducing its ATC training backlog in many regions but that staffing levels at the New York Terminal Radar Approach Control facility "continue to be below targets".
In another step to help alleviate the pressure on New York's struggling ATC system, the agency is reassigning about 100 sq miles (259 sq km) of Newark airspace to Philadelphia Terminal Radar Approach Control later this year.