US airlines are struggling to deal with the fallout of the nationwide launch of new fifth-generation (5G) cell-phone networks, despite a move to delay their introduction at busy airports across the country.
On 18 January, both Verizon and AT&T agreed to delay the roll-out of fifth-generation wireless networks near certain US airports – a move expected to lessen but likely not eliminate the impact on commercial aviation. The fear is that interference with aircraft radio altimeters may jeopardise safety under certain circumstances, and could lead to widespread chaos across the system.
Last week, the Federal Aviation Administration prohibited auto-landings and some other flight operations at airports where interference could be possible. Some foreign carriers cancelled flights to the USA earlier this week amid the safety concerns.
American Airlines' chief operating officer David Seymour warned employees on 18 January that disruptions could be "major".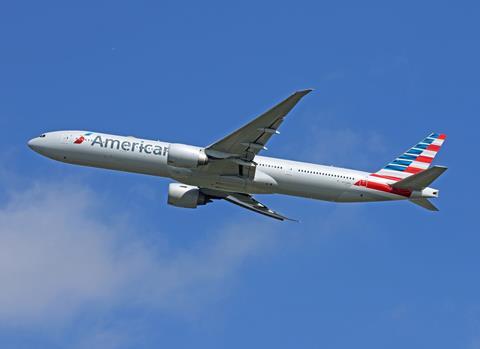 "We anticipate American, along with all US airlines and many foreign carriers providing service to US destinations, will experience major operational disruptions as this new 5G technology operates on frequencies adjacent to the ones used by the radio altimeters on aircraft," he wrote in a note to staff. "Those radio altimeters are a critical component of every aircraft we fly, as they more-precisely measure the distance between an aircraft and the ground."
"Until a long-term technical solution is developed and implemented and as long as 5G is deployed, we anticipate we'll experience delays, diversions and cancellations that are well beyond our control," he adds.
Chicago-based United Airlines, meantime, says the delay has mitigated the situation, if only short-term.
"While we anticipate minor disruptions at some airports due to the remaining 5G restrictions, we're pleased the Biden Administration reached a compromise with AT&T and Verizon to avoid mass cancellations across the aviation industry," United says on 19 January. "We look forward to a higher level of coordination between the regulators, telecom companies and the aviation industry to ensure that customers are not faced with disruptions going forward."
The cell phone companies had planned to begin 5G transmissions across the country on 19 January – already a delay of several weeks from the original date. They reversed that decision amid pressure from the aviation industry, which warned of significant flight disruptions resulting from Federal Aviation Administration restrictions intended to prevent 5G from interfering with aircraft radio altimeters.
Last week, the FAA issued orders prohibiting auto-lands and other radio-altimeter-based operations at many major US airports for aircraft with "untested altimeters". On 16 January, however, the regulator cleared several Airbus and Boeing models to operate low-visibility landings at 48 of 88 "most-directly-affected" airports.
Approved aircraft types include Boeing 737s, 747s, 757s, 767s and 777s, and Airbus A320-family jets, A330s, A340s, A350s and A380s. The FAA now says 62% of the US commercial airline fleet is now approved for low-visibility approaches.
Boeing's 787 are not among the approved types.
"DELINQUENT, UTTERLY IRRESPONSIBLE"
Foreign carriers including Emirates Airline, Air India and ANA proactively cancelled some flights into US airports ahead of the introduction.
Emirates president Tim Clark told CNN on 19 January he had not previously known the extent to which 5G would "compromise the safety of… our aircraft and just about every other 777 operator to and from the United States and within the United States".
He called the 5G disruption a "delinquent, utterly irresponsible" situation.
US air transportation lobby group Airlines for America (A4A) says it appreciates government "action to avert catastrophic disruption to the traveling and shipping public, the global supply chain and the US economy". But A4A warns "there is still work to be done".
"This is an important step toward achieving a permanent solution and allowing the US to continue leading the world in aviation safety while also expanding our nation's 5G network," A4A chief executive Nicholas Calio says.
Regional Airline Association (RAA) chief executive Faye Malarkey Black tweeted on 18 January that regional carriers were "left out of important aviation discussions" about the 5G roll-out and its impact.
"With our aircraft left out of the deal, effective [19 January], when weather at arrival airports drops below minimums, regional flights won't dispatch and/or flights enroute will be diverted. This is the same disruption and chaos the larger airlines warned about earlier this week," she writes, adding that a "very big problem" remains.