An Alaska Airlines jet was heavily damaged upon landing in Santa Ana, California during a tropical storm.
The Seattle-based carrier confirmed on 21 August that the jet – a 15-year-old Boeing 737-800 operating to John Wayne airport as flight 1288 from Seattle – "experienced an issue soon after landing… and was unable to taxi to the gate due to an issue with its landing gear".
Alaska says the flight had 106 passengers and six crew members on board, and none were injured.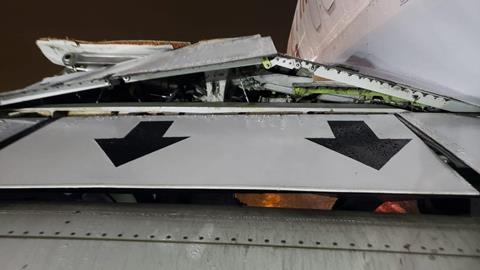 According to Cirium fleets data the aircraft holds the registration N516AS and was delivered to the airline in December 2008.
The aircraft landed in Santa Ana at approximately 23:15 local time, just as the remnants of Hurricane Hilary were moving through the region.
A passenger video posted to YouTube shows sparks on the runway as the aircraft rolls out from a hard landing.
Images on other social media sites show a heavily damaged left landing gear, which appears to have punctured through the wing. The aircraft's left engine is resting on the taxiway.
"The aircraft parked on a taxiway, where it remains, and everyone exited the aircraft safely," the airline adds. "Our maintenance and safety teams are inspecting the aircraft."
Over the weekend the remnants of Hurricane Hilary moved north from Mexico's Baja California through southern California and into Nevada. The storm brought much-needed precipitation to the region, but also triggered landslides and flooding in many areas.