The US National Transportation Safety Board (NTSB) says in a preliminary report that an Alaska Airlines Boeing 737-800 suffered a fractured trunnion pin upon landing in Santa Ana, California last month.
The 15-year-old jet was heavily damaged as it landed at John Wayne airport during a tropical storm at about 23:15 local time on 20 August. It was travelling as flight 1288 from Seattle.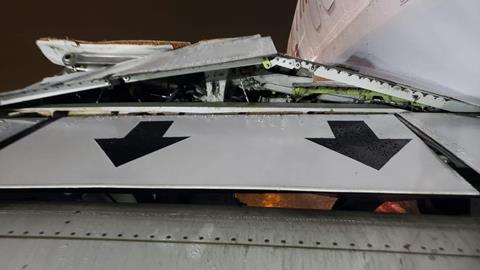 In its preliminary report published on 11 September, the NTSB says that the aircraft's main landing gear trunnion pin had "fractured".
"The aft end of the left [main landing gear] had travelled up, puncturing the composite panels, and protruded out and above the wing's surface, [and] the MLG walking beam was also protruding above the surface of the wing," the agency writes. "The forward section of the aft trunnion pin was located inside the trunnion and was held in place by a damaged but intact cross bolt. The aft section of the pin had separated and was located in the MLG beam spherical bearing."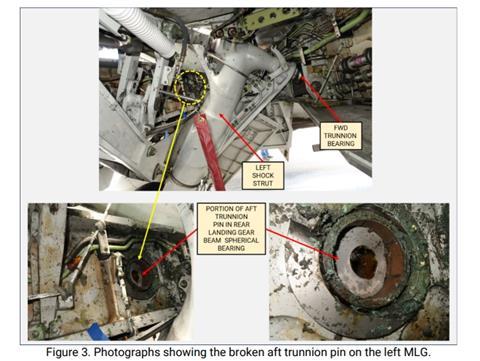 The airline said at the time of the incident only that the jet "experienced an issue soon after landing… and was unable to taxi to the gate due to an issue with its landing gear". The flight had 106 passengers and six crew members on board, and none were injured.
The NTSB report notes that the captain said that the touchdown had a "firm jolt feeling" and he told the first officer that it felt like the aircraft had a flat tyre. He had noticed that the "aircraft was pulling reasonably hard to the left" while taxiing off the runway. Once clear of the runway, he noticed that the aircraft "was resting on the left engine cowling, and it appeared to be still running normally".
He shut down the left engine and after emergency services determined that there was no fuel leak, the aircraft was evacuated.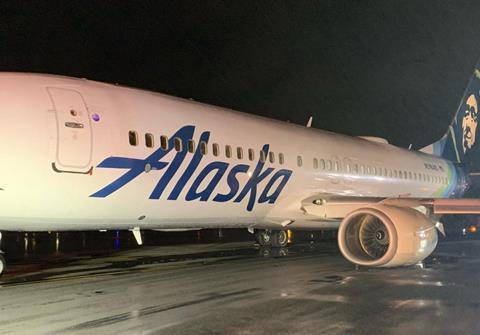 According to Cirium fleets data, the aircraft involved in the accident holds the registration N516AS and was delivered to the airline in December 2008.