The largest US pilot union is urging the US government to take additional steps to prevent passengers from gaining access to cockpits, saying a recent spike in air-rage incidents signals a need for better security.
The Air Line Pilots Association, International (ALPA) is calling on regulators to require that cockpits of passenger aircraft be equipped with "secondary barriers" – devices intended to block access when an aircraft's cockpit door is open. Such barriers include locked gates ahead of the cockpit door.
ALPA has long urged regulators to require the secondary barriers, having taken up the advocacy effort following the September 2001 US terrorist attacks.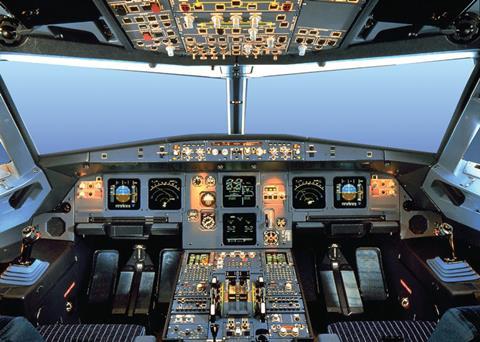 The union's president Joe DePete is now renewing calls for secondary barriers, citing increasing numbers of in-flight passenger disturbances.
"I urge the FAA to please, stop stalling," DePete says on 28 June during a virtual event hosted by the Aero Club of Washington. Regulators should require secondary devices be installed on all new aircraft and added to existing, in-service aircraft, DePete says.
News outlets have reported a number of recent instances involving unruly air passengers, including an early June incident in which a passenger allegedly attempted to break into the cockpit of a Delta Air Lines jet.
The FAA has seen a recent "significant increase" in reports of unruly air passengers, having received 2,500 such reports year-to-date through 24 May. Many of the incidents were related to the US government's requirement that passengers wear face coverings, the agency said.
The FAA has responded by declaring a "zero-tolerance policy for unruly and dangerous behaviour by passengers", and by dishing out hefty fines.
The agency did not respond immediately to questions about requiring secondary cockpit barriers.
Additionally, DePete reiterated ALPA's recommendation that regulators require cargo aircraft to have "intrusion-resistant cockpit doors", noting cargo aircraft often carry some passengers.
DePete also urged US lawmakers to support a bill aimed at preventing foreign airlines with allegedly unfair labour practices from flying to the USA. Specifically, the "Fair and Open Skies Act" would require the US secretary of transportation to include a review of labour standards as part of its decision whether to grant new permits to foreign carriers.
US labour groups had rallied in support of such requirements in response to Norwegian Air International, which began service to the US last decade, but ceased flights during the pandemic. Labour groups said the company's structure sidestepped European labour laws.
Labour groups see similar threat from a new airline eyeing US flights: Norse Atlantic Airways.