American Airlines has slammed passenger-number restrictions implemented by London Heathrow airport in response to staff shortages, as the airline scrambles to accommodate customers.
"We were told last week on extremely short notice to cancel departing flights, as a way to help manage airport crowding," Nate Gatton, head of government affairs and corporate real estate at American, said on the company's earnings call on 21 July.
"We found that request to be quite disappointing and frustrating on many levels, mostly because of the significant burden it would put on our customers on very short notice, with few options for rebooking given the summer loads," he adds.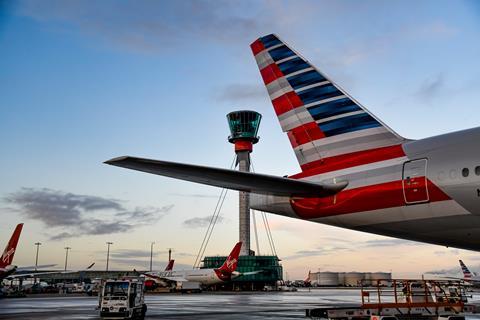 London Heathrow on 12 July announced a capacity cap for the peak summer travel season and requested airlines stop selling tickets for the period, citing challenges posed by the "legacy of Covid".
The airport joins others including London Gatwick and Amsterdam Schiphol, which had already announced capacity ceilings for the coming months as the industry seeks to counter operational woes that are causing long queues, poor flight punctuality, luggage delays and last-minute flight cancellations – and plenty of negative press.
American's Gatton says the caps will remain in place until next week, when different, updated procedures are to be introduced by the airport. American does not know what next week's changes will be.
The procedures will likely impact all airlines serving Heathrow through the second week September, he adds
"We are very disappointed in the circumstances. We have high load factors and we are told by the airport at the very last minute that they can't handle passengers and have to reduce the capacity," he says. "We don't see these same kinds of caps in the US but we do expect to face similar issues and challenges at additional international locations through the summer."
"At the end of the day, we have to match capacity to the resources that are available," Gatton adds.