The Aircraft Owners and Pilots Association (AOPA) is sharply criticising the Federal Aviation Administration for a sudden recent policy change regarding flight instruction in several categories of general aviation aircraft.
In an pointed 11 July letter to FAA Administration Steve Dickson, AOPA – the largest general aviation interest group in the world – calls the change "astonishing" and "mindboggling". It says the new policy will "burden" thousands of aircraft owners and instructors with additional paperwork in an industry already plagued by a great deal of regulation.
The policy, which the FAA released last week, takes effect today. It stems from a case earlier this year in which a court sided with the FAA about requirements for instruction in certain kinds of aircraft.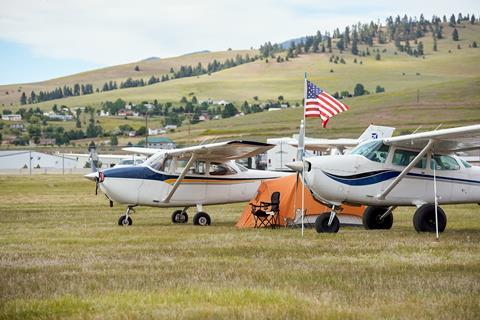 Owners and instructors of "experimental-", "primary-" and "limited-" category aircraft must now get an FAA-issued exemption to legally receive or give instruction in those aircraft, the FAA's policy says.
"It is unfortunate that this notice was done without any public input from the general aviation community and, more importantly, does nothing to support the public interest as far as safety is concerned," writes AOPA president Mark Baker. "It is simply a bureaucratic response that will overwhelm the FAA and create even more confusion than already exists around this issue."
Though regulations governing the exemptions have existed for years, the FAA seems to only now be enforcing such requirements. The policy follows a recent legal battle.
"It is astonishing that the FAA is dramatically changing its legal interpretations of a longstanding regulation without changing one word of the regulation," Baker continues. "Moreover, this recent notice simply imposes administrative paperwork requirements and burdens tens of thousands of aircraft owners, pilots and flight instructors."
OSHKOSH 2021
The spat comes two weeks before thousands of aviators begin descending upon Oshkosh, Wisconsin, for the biggest annual general aviation fly-in in the world, the Experimental Aircraft Association's AirVenture. The week-long event was cancelled in 2020 due to coronavirus mitigation measures, but usually attracts more than 10,000 aircraft and 600,000 visitors.
"The world's largest general aviation fly-in is two weeks away," says AOPA's Baker, noting that many attendees are planning to fly affected aircraft types to the show. "Completing a new FAA invoked paperwork process to simply obtain 'approval' to do what pilots have already been doing safely for years is simply mindboggling."
Baker says more than 39,000 aircraft are registered with the FAA as experimental-, primary- and limited-category, the vast majority being experimental aircraft, which include kit-built aircraft and those intended for testing new aerospace technologies and designs.
World War II-era vintage aircraft, of which about 400 are registered, are categorised as "limited-category". The FAA defines "primary-category" aircraft as having a "simple design" and being intended "exclusively for pleasure and personal use". They must be unpressurised, seat no more than four people and can include aircraft, gliders, rotorcraft and manned balloons up to 1,225kg (2,700lb). There are less than 100 of these registered in the USA.
Aircraft most-commonly used for flight training, like Cessna 172s, are certified as "normal-" or "utility-" category aircraft and therefore are not subject to the policy.
COURT CASE
The FAA's new policy stems from a case this year involving a Florida flight operation called Warbird Adventures. The FAA cited Warbird for offering training for compensation in World-War-II era aircraft without FAA permission. After months of back and-forth, a court sided with the FAA in April.
AOPA, the Experimental Aircraft Association (EAA) and other general aviation organisations warned the FAA's Dickson on 8 June that the determination could have "serious, negative implications on the broader flight training community".
Though the FAA says it will accept exemption applications electronically, industry groups are warning of red tape and delays.