Rolls-Royce took several safety actions related to the Trent 700 engine following a 2017 fan blade failure suffered by an AirAsia X Airbus A330-300.
The failure occurred in engine No. 1 after the aircraft, 9M-XXE (MSN1075), took off from Perth operating flight XAX237 to Kuala Lumpur on 25 June 2017, says the Australian Transport Safety Bureau (ATSB) in its final report into the incident, which it classifies as "serious."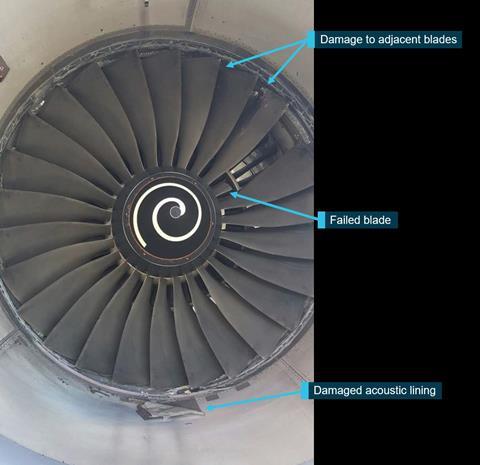 "Approximately one hour into the flight, during a step change in altitude, the flight crew heard a metallic bang, significant vibration started through the airframe and ENG 1 [left] STALL warning was presented to the flight crew," says ATSB.
"The flight crew completed the relevant engine failure procedure and commenced a single-engine return to Perth."
After the aircraft landed safely, it was observed that three quarters of one fan blade was missing. Investigations revealed that the failure was due to a premature onset of fatigue cracking in a high-stress area, stemming from an artefact of the blade's manufacturing process.
"As a result of a number of previous fan blade failures, the engine manufacturer had instigated a non-destructive inspection programme designed to detect internal cracking," says ATSB.
"Although the failed blade had been subjected to this inspection, the fatigue crack progressed to failure before its next scheduled inspection. As such, it was found that the inspection interval was too great to capture the crack that developed in this blade before it reached a critical size."
ATSB cited a number of safety actions taken by R-R to address the issue, namely service bulletins. One cut the inspection interval from 2,400 to 1,200 cycles, another introduced an improved inspection process. One service bulletin called for the inspection of fan blades that had showed defects during their last inspection that were below the threshold for action.
"This investigation demonstrates the importance for manufacturers of critical components, and regulators monitoring the manufacturers, to have systems in place to quickly identify core issues and put in place measurers to mitigate risk," says the ATSB.
"This incident represents a good example of how manufacturers, through quick and positive actions can communicate engineering solutions and technical information to operators and maintenance providers through messages, service bulletins and service letters."
None of the 10 crew or 357 passengers were injured during the incident.