The Australian Transport Safety Bureau (ATSB) has highlighted the hazards of unstable approaches, following its discontinuation of a probe into an incident involving a Vietnam Airlines aircraft on final approach with its undercarriage retracted.
The incident involved a Boeing 787-9 (VN-A870, MSN39289) on final approach into Melbourne following service VN781 from Ho Chi Minh City. It occurred in good weather just after 08:00 on 19 September 2019, according to the ATSB.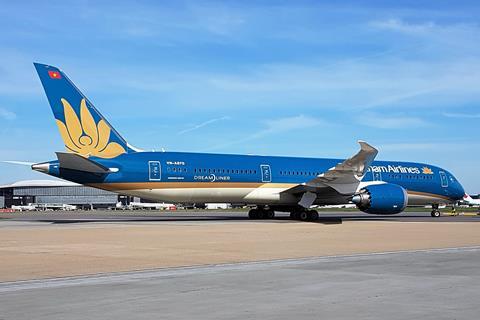 As the aircraft descended through 1,305ft, controllers at the nearby Essendon Airport saw that the landing gear was still retracted just 3nm (6km) from the threshold of runway 34.
The information was relayed via special hotline to Melbourne tower, which asked the Vietnam Airlines crew to "check wheels". The pilot monitoring initially mis-heard this as "check wind", and replied with wind conditions.
"The Melbourne tower controller immediately recognised the advisory call was misunderstood and provided a second call to the crew 'Vietnam 781 check your wheels, they were observed up'," says ATSB.
As the aircraft descended through 1,104ft the crew received the "CONFIG GEAR" message. The pilot monitoring lowered the undercarriage, while the pilot flying announced and selected the auto-throttle take-off go-around button.
The aircraft's lowest altitude was 862ft 1.5nm from runway 34. Following the go-around, the aircraft landed without incident.
During its investigation, the ATSB learned that the aircraft was not correctly configured for landing according to the airline's stable approach criteria.
It also indicated that crew fatigue may have played a role, noting the time difference between Melbourne and Ho Chi Minh City, and that the captain had been awake 15h and the first officer 21h.
"Unstable approaches are known to be a hazard to aircraft operations," adds ATSB. "According to the International Air Transport Association, between 2012–2016, there was an average of six accidents per year, which were preceded by an unstable approach."
On its reasons for discontinuing the probe, the ATSB felt that further investigations were unlikely to identify systemic issues or lessons.
"The ATSB has communicated with Vietnam Airlines and Airservices Australia about some its observations and potential learnings," it adds.