The Australian Transport Safety Bureau (ATSB) has discontinued its investigation into a crew incapacitation event aboard a Virgin Australia Fokker F100 on 27 December 2021.
The event occurred as the aircraft (VH-FNU, MSN11373) operated a scheduled service on the Newman-Perth route at 34,000ft, when a cabin crew member became unwell, says ATSB.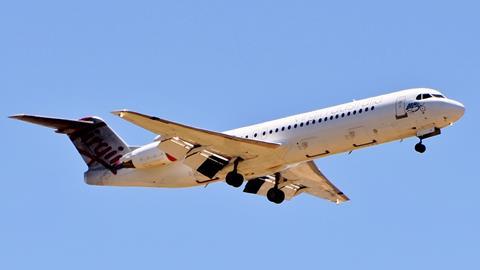 The aircraft continued to 35,000ft and the crewmember was treated with oxygen. Subsequently, two other cabin crew said they were unwell, and the first officer reported slight nausea. The flight crew donned oxygen masks, manually deployed passenger masks, and descended to 10,000ft before landing at Perth.
No passengers reported any symptoms.
After an investigation that explored several areas and included various tests, the ATSB concluded that the exact cause of the symptoms could was not likely to be identified.
Flight data analysed by ATSB shows that cabin altitude remained at 10,000ft during the flight, making it hard to establish the reason for the crew's symptoms.
It adds that the crew's decision to don oxygen masks and descend was a "sound" one.
"If there is any doubt as to whether the flight crew's ability to operate the aircraft may be affected by a possible oxygen supply problem, the safest course of action is to go onto oxygen as soon as possible," it adds.
It felt, however, that a continued investigation was unlikely to disclose any systemic safety issues or lessons.
"Consequently, the ATSB has discontinued this investigation. The evidence collected during this investigation remains available to be used in future investigations or safety studies. The ATSB will also monitor for any similar occurrences that may indicate a need to undertake a further safety investigation."
ATSB ACTIONS DURING INVESTIGATION:
• interviewed the flight and cabin crew
• analysed recorded data from the aircraft's flight data recorder (FDR)
• reviewed the aircraft maintenance records
• reviewed air traffic control recordings
• reviewed other depressurisation occurrences involving Fokker 100 aircraft
• reviewed post-occurrence testing and evaluation reports from the aircraft manufacturer for the cabin indication panel
• reviewed the material safety data sheets and the possibility of a dangerous goods spill.