The Australian Transport Safety Bureau (ATSB) has laid out its next steps for investigating the 6 February crash of Boeing 737-300 firefighting aircraft.
The ATSB reveals that the Coulson Aviation aircraft (N619SW, MSN28035) crashed after conducting a second retardant drop on a fire near Fitzgerald River national park in the country's southwest. Both pilots managed to extract themselves from the crashed aircraft and were rescued by helicopter.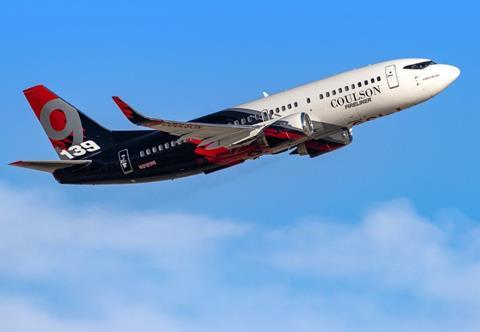 Cirium fleets data indicates that the aircraft's career as a tanker was short. Delivered new to Southwest Airlines in 1995, it carried passengers until 2017, when it was purchased by Coulson.
Coulson converted it to a tanker in 2021, and it commenced firefighting duties in July 2022. The 737 is fitted with a patented aerial delivery system capable of dropping up to 4,000USgal of retardant.
"We expect the site to present its challenges to our investigators," says ATSB. "It is remote, an active fire ground, the aircraft is at least partially burnt, and aircraft wreckage can involve hazardous materials, so our investigators will take a cautious and measured approached to their onsite activities."
The ATSB aims to have investigators at the site in the coming days. In addition to examining the crash area, they will recover the aircraft's cockpit-voice and flight-data recorders, as well as other aircraft parts. A drone will map the site.
The ATSB adds that there is also nothing to suggest a link to the crash of a Lockheed Martin EC-130Q firefighting aircraft in Eastern Australia in 2020. The 2020 crash, which also involved a Coulson Aviation aircraft, was subsequently attributed to windshear and procedural issues.
Some of the ATSB team members worked on this earlier investigation.
"This is the first serious accident involving a Boeing 737 aircraft in Australia, and the second involving a large air tanker firebombing aircraft," says ATSB.
"At this stage there is nothing to suggest this accident has wider implications for the global Boeing 737 airliner fleet."
The coming days will determine the scope of the investigation and its timeframe.