The Australian Safety Transport Bureau (ATSB) has commenced investigations into a crew incapacitation event aboard a Virgin Australia Fokker F100.
On 27 December 2021, the aircraft (VH-FNU, MSN11373), was operating a scheduled service on the Newman-Perth route at 34,000ft when a cabin crew member began to feel unwell, says the ATSB.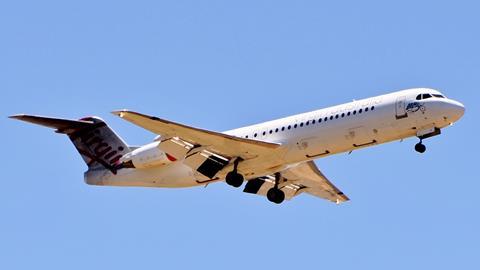 The crewmember was treated with oxygen, and the aircraft climbed to 35,000ft.
Shortly after this, two cabin crew reported feeling unwell, and informed the flight crew that they suspected possible hypoxia. Subsequently, the first officer reported slight nausea.
"As a precaution, the flight crew donned oxygen masks, manually deployed the passenger oxygen masks and conducted an emergency descent to 10,000ft," says the ATSB.
"The aircraft landed at Perth Airport and one cabin crew member was taken to hospital for assessment."
There were five crew and seven passengers aboard the aircraft at the time of the incident.
The ATSB expects to complete its investigation by the third quarter of 2022.
Cirium fleets data indicates that VH-FNU was delivered new to US airways in 1992, and also served with Belgium's TUI before joining Virgin Australia in 2008.