Australian investigators are probing an in-flight fire involving a Saab 340A freighter operated by Regional Express (Rex) unit Pel-Air.
The Australian Transport Safety Bureau (ATSB) says the turboprop (VH-KDK, MSN016) was operating a flight from Wagga Wagga in New South Wales to Charleville when the incident occurred during cruise.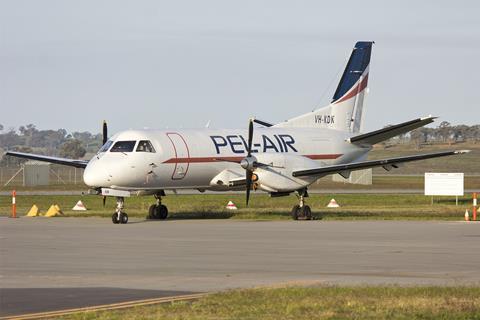 The crew received "multiple warnings", including about cargo and avionics smoke, as well as cabin pressure. There was subsequently thick smoke in the cockpit, prompting the crew to conduct an emergency landing, with the aircraft diverted to Cobar.
"The post-flight inspection revealed fire damage in the vicinity of the right air cycle machine and cargo bay floor," states the ATSB, which has classified the incident as serious.
Investigations are ongoing and the bureau expects to wrap up the probe by the third quarter of this year.
According to Cirium fleets data, the aircraft is of 1985 vintage, and was first delivered in passenger configuration to Rex predecessor Kendell Airlines. In 2009, the aircraft was converted to a freighter and entered operations with Pel-Air.