Boeing and Canadian aviation training company CAE have partnered on a new pilot training programme that will allow customers to access Boeing's Competency-based Training and Assessment (CBTA) curriculum – an innovative flight instruction regimen that uses digitally advanced tools and customised data.
With the agreement, CAE will be the first to offer the CBTA curriculum, and becomes a Boeing Authorised Training Provider, the Montreal-based company said at the Paris air show on 19 June.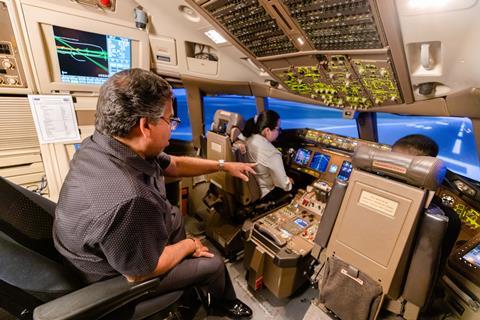 The shift to CBTA focuses on developing and evaluating skills, knowledge and behaviours essential for commercial pilots to operate safely and efficiently, CAE says.
"Boeing and CAE are working together to enhance aviation safety and this agreement gives more pilots access to the technology and curriculum through which they acquire the skills and knowledge for peak performance on the flight deck," says Marc Parent, CAE's chief executive.
The training programme will be launched at CAE's locations in India, and will soon be available in all of CAE's 70 training centres worldwide, he adds.
"This partnership expands our competency-based flight training capacity to better meet the needs of our customers worldwide," says Stephanie Pope, chief executive of Boeing Global Services.
Boeing and CAE already work closely in both commercial and defence aviation programmes.