Boeing has now delivered nine of its widebody 787 Dreamliners following a five-month break due to quality issues, and intends to deliver 10-12 of the aircraft monthly through year end.
In addition to two 787 deliveries logged in the company's published delivery figures last month, seven more have been handed over to customers, "with potentially a couple more this week", Boeing chief executive David Calhoun says during the company's first-quarter earnings call on 28 April.
The "majority" of the rest of Boeing's stockpiled 787s will be delivered by the end of 2021, adds chief financial officer Greg Smith.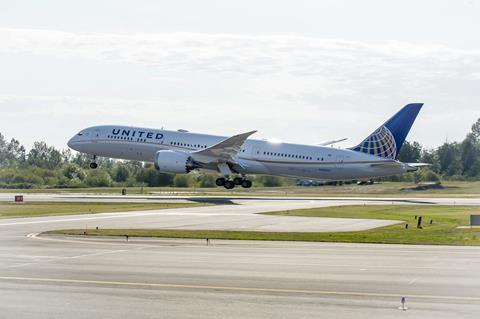 "We're going to be at a rate probably this month at 10-12 airplanes, that's what we can do, and we will hold that rate as long as we can, depending on customers [being] able to get in and take delivery," Smith says.
Boeing halted deliveries in October 2020 after identifying a "skin-flatness" issue affecting the aft section of the jets, where fuselage sections join.
The company has been inspecting 787s to ensure fuselages meet required tolerances, a process that necessitates partial disassembly, in some cases, of the jets' interiors.
Smith says that the repairs are speeding up as the company's teams get more proficient in completing them.
"It's improving aircraft-over-aircraft, the teams are coming down a learning curve so we anticipate the cycle time to improve," he says.
"We have a schedule lined up by tail number, by month, by customer, that gets the majority of the 100 inventory aircraft delivered by the end of the year," he adds.
The 787 delivery halt hit amid the coronavirus pandemic and also as Boeing progressed with transferring all 787 production work to its Charleston, South Carolina plant. The company will stop making 787s at its other, formerly primary 787 manufacturing facility in Everett, Washington.