The number of commercial jet aircraft accidents globally inched higher in 2022 to 25 incidents, including three that killed a combined five people, but last year's accident rate still declined from 2021.
That is according to Boeing's latest annual air accident report, which shows a continued trend of broadly improving aviation safety but highlights ongoing concerns, including persistent risks during initial and final phases of flight and high accident rates in Africa.
"Accident rates continue to drop," says Boeing vice-president of enterprise safety Elisabeth Martin. "In the last 20 years, we've seen a 45% decline in accident rates and a nearly 80% decline in fatal accidents."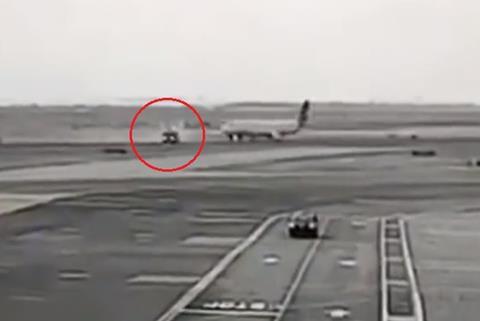 Released on 28 September, Boeing's latest Statistical Summary of Commercial Jet Airplane Accidents indexes accidents involving jet aircraft weighting more than 27,216kg (60,000lb) – meaning 70-seat regional jets and above.
The 25 incidents last year included instances of tail strikes, runway excursions, landing-gear collapses, aircraft ground collisions and hard landings. The global airline industry logged 26.3 million departures in 2022, equating to an accident rate of 0.95 per one million departures.
Of the 25 accidents in 2022, three killed a combined five people, none of whom were aboard aircraft. Those included a TAP Air Portugal Airbus A320neo that struck a motorcycle during landing in Conakry, Guinea on 2 September 2022, killing two people. On 18 November last year, a LATAM A320neo hit two fire engines while attempting to take-off from Lima, killing two people, and on 31 December 2022 a ground worker in Montgomery, Alabama was killed when ingested into the engine of an Embraer 175 operated by US regional airline Envoy for American Airlines.
By comparison, there were 23 accidents involving large commercial jets in 2021, when airlines logged 21.6 million flights, for an accident rate of 1.07 per million departures.
Unlike prior versions of Boeing's accident report, this year's study breaks out data into more geographies, showing disparities between regions and particularly high accident rates in Africa.
Since 2013, there were 3.8 accidents per million departures in Eastern and Southern Africa (11 total accidents), and 22.8 accidents per million flights in Western and Central Africa (also 11 total), Boeing's report shows.
By comparison, accident rates in the last 10 years were close to one per million departures in three regions – Europe and North Atlantic (84 accidents), Asia and Pacific (77), and North and Central America and the Caribbean (74).
Rates were less than two per million departures in both the Middle East (22 accidents) and South America (21).
"The good news… is that accidents are reducing in every single region," says Martin. "The point is to provide more useful data to each region of the world, it's not to invite comparison between regions."
Boeing's report makes clear that aviation has continued to become safer over many decades, with accident rates declining from about 50 per million departures in 1959 to low-single-digit rates by the 2000s.
Of the 2,123 jet-aircraft accidents since 1959, 300 occurred since 2013, including 32 that killed a combined 1,202 people.
Boeing's data shows that 21% of those fatal incidents occurred during take-off and initial climb, while 46% happened during final approach and landing.
"These are really good reasons for us to be continuing to focus on safety in and around airports," Martin says.
The Federal Aviation Administration this year convened a safety summit in response to a string of near-collisions involving passenger jets at US airports. The agency also issued a safety bulletin urging airlines to "reinforce adherence to published processes and procedures".
Boeing has stressed its commitment to improving safety in recent years following two 737 Max crashes. It has done so through numerous internal changes, including creating a chief aerospace safety officer position. Boeing has also put resources into safety-based data analytics, focused on improving pilot training and been assigning flight operations representatives to consult with airlines, Martin says.
"Any partnering that we can do – to share data and learn together and share best practices – is really what helps to improve safety," she says.