Boeing's head of safety has warned of potential negative safety consequences if the company were to equip its 737 Max 10 with an modernised crew alerting system – technology expected to be required before that jet achieves certification.
"I personally have no belief that there's any value in changing the 737," Boeing chief aerospace safety officer Michael Delaney says on 23 May.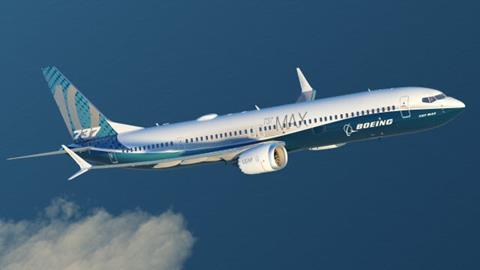 His comment came in response to a question about a pending regulation that will prohibit the Federal Aviation Administration from certificating aircraft that lack a "flight crew alerting system".
Such modern systems, which include engine-indicating and crew-alerting systems (EICAS), are intended to help pilots better diagnose and respond to cockpit errors. Essentially all modern airliners except 737s have such technologies.
The regulation, required by a late 2020 law, is set to take effect in December. Boeing has said it intends to deliver the first Max 10 in 2023, suggesting it will not achieve the Max's clearance before the deadline.
How Boeing will address that issue remains unclear. Chief executive David Calhoun has said Boeing could potentially secure an exemption, letting the Max be certificated as is.
Delaney says the historic safety record of the 737 family proves the effectiveness of the existing alerting system. The system is largely unchanged from Boeing's initial 737 design decades ago, experts say.
"It is the safest airplane that's ever been built," Delaney tells reporters. "There's no data that says that… airplanes with EICAS are more safe."
Experts say equipping the Max 10 with modern alert technology would be costly and time consuming, create concerning cockpit differences between Max variants and spur new training requirements.
"That lack of [cockpit] commonality can introduce risk," says Boeing vice-president of operational safety and strategy Al Madar. "You have to be very careful."
Boeing has also not yet achieved certification for its 737 Max 7, the smallest version of the Max family, but aims to do so this year.
The FAA already certificated the Max 8 and Max 9.