Two Australian operators have revised operational and training procedures following a loss of separation between a Saab 340B and Beechcraft King Air 200.
On the morning of 21 October 2021, the King Air (VH-WXB) and Saab 340B (VH-ZLV) were due to land at Brisbane West Wellcamp airport at roughly the same time, according to the Australian Transport Safety Bureau (ATSB).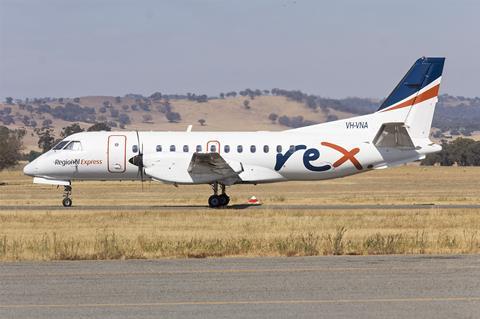 The Saab 340B, operated by Regional Express (Rex), was flying from Brisbane airport and the King Air, operated by charter company Brescon, was operating from Roma airport.
"The pilots of both aircraft made a number of calls on the common traffic advisory frequency to organise separation at the non-controlled aerodrome, however, at about 08:28, VH-WXB conducted a 180° left turn on the active side of the circuit, crossing in front of VH-ZLV, " says the ATSB.
This saw separation reduced to 300ft vertically and 3,200ft horizontally. As the King Air commenced the turn, this activated the Saab's traffic collision and alert system (TCAS). The pilot flying disconnected the autopilot and climbed until clear of the conflict, while at this time the King Air also received a TCAS warning.
The crews of the two aircraft subsequently identified each other and the two aircraft landed safely at Wellcamp.
Classifying the incident as serious, the agency adds: "The ATSB found that the pilots of both aircraft had an incorrect mental model of the positions of the other aircraft and neither had positively sighted the other aircraft before the conflict. The flightcrew of VH-ZLV broadcast an incorrect position of their aircraft when approaching the circuit, which probably resulted in the pilot of VH-WXB misidentifying VH-ZLV for another aircraft on their TCAS."
Following the incident, Brescon changed its procedures for operating into non-towered aerodromes, and advised pilots about allowing for greater spacing when traffic sequencing needs to be considered.
Rex, for its part, will has included operations to non-towered aerodromes as a focus item in period aircrew checks, and will use the incident as a case study for training.