The government of Canada has imposed additional travel restrictions for all inbound air passengers in a further effort to stop the spread of the highly contagious coronavirus.
The country's minister of intergovernmental affairs Dominic Leblanc says on 30 December that Canada will soon require all arriving passengers to present a negative polymerase chain reaction (PCR) test result that is less than 72h old.
This is in addition to the mandatory 14-day quarantine for inbound travellers which the country has maintained for much of this year.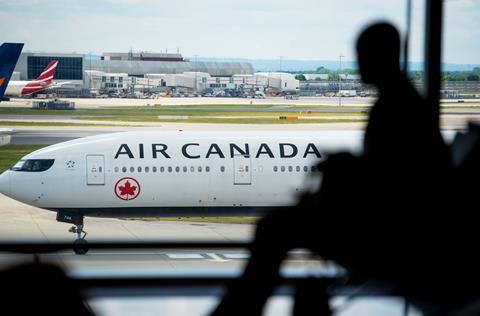 "Canada will quickly implement the requirement for all arriving passengers to have a negative PCR covid test three days before arriving in Canada," Leblanc says.
The requirement will go into effect "in the next few days", he adds.
The country's minister of public safety and emergency preparedness, Bill Blair, says that while the constitution guarantees Canadians the right to move about freely, the government continues to "strongly advise against all discretionary travel".
"This is not an alternative to quarantine," says Blair. "It's an additional layer of protection."
It will be up to the airlines to ensure that each passenger has a negative test result prior to boarding and travellers to Canada who are found disregarding the quarantine requirement can be subject to up to 6 months in jail or a fine of C$750,000 ($587,000), Blair adds.
The new order could lead to a situation where a passenger arriving in Canada with proof that they are coronavirus-free will still be forced into 14 days of isolation despite that negative test.
Montreal-based legacy carrier Air Canada, whose outgoing chief executive Calin Rovinescu has been a loud critic of the government's strict travel restrictions, did not comment on the planned policy. Calgary-headquartered competitor WestJet says it is awaiting "further clarity" from the government.
As in other countries, Canada's air transport industry has suffered as the pandemic continues to tear across the continent.
Air Canada has protested what it sees as draconian and unnecessary measures that are hindering its return to normal business operations. Rovinescu repeatedly blasted the government for its lack of financial support for the sector, while at the same time it maintains the strict travel restrictions that have led to widespread job losses and continue to prevent the sector from any significant rebound.
Last week Canadian regulators prohibited the operation of commercial passenger flights from the UK to Canada after the UK announced it had identified a new, faster-spreading strain of the Covid-19 virus. Since then, the virus has also been identified in Canada.