The government of Canada is preparing to ease entry restrictions for international travellers, a further step toward normalcy for the country as the Omicron wave of Covid-19 subsides.
Minister of transport Omar Alghabra says on 15 February that new measures taking effect at the end of the month include a simplification of the testing regime and allowing international arrivals at all airports in Canada.
"These measures will allow vaccinated Canadians to once again reunite with family and friends and reap the economic benefit that travel provides," says Alghabra. "We will continue to evaluate our measures and will not hesitate to make necessary adjustments to keep Canadians and our transportation system safe."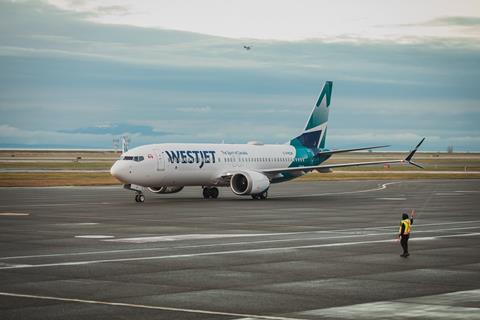 The government will now introduce random testing of fully-vaccinated passengers arriving in Canada, rather than the mandatory arrival test and quarantine that was previously required. In addition, a rapid antigen test result will be accepted pre-departure, in addition to the more-accurate PCR tests. The rapid tests are cheaper and results are available more quickly.
"The return to mandatory random testing of all vaccinated travellers will facilitate travel for Canadians all while helping our public health authorities to detect future changes in Covid-19 importation rates and variants of concern," adds health minister Jean-Yves Duclos.
Canada will also lift its advisory against non-essential travel abroad, which was introduced in mid-December as the Omicron variant tore around the world. Canada now says travellers should "understand the risks that are still associated with international travel given the high incidence of Omicron, and take necessary precautions".
Canada pledged to re-open all its airports to commercial passenger flights arriving from outside the country. Currently only 18 airports are authorised to accept flights arriving from abroad.
Calgary-based WestJet applauded the new rules, saying the move is "a positive step forward for our industry". The National Airlines Council of Canada (NACC), which represents most major carriers in the country, agrees, but adds that "more needs to be done".
"Other countries have moved to eliminate pre-departure testing requirements entirely, and the latest scientific evidence suggests now is the time for Canada to consider doing the same," says NACC interim CEO Suzanne Acton-Gervais. "Canada's airlines are asking the federal government to produce a detailed science-based plan, and communicate it to industry and the public, that will allow for a predictable, safe return to travel that aligns with our global allies."
Last week, Canadian airlines, including WestJet, and tourism groups urged the government to ease the measures, since the spread of the variant has slowed significantly. At the time, WestJet extended cancellations of 20% of its schedule for March due the "ongoing uncertainty and barriers facing travel".
"Travel advisories, restrictions and testing requirements were meant to be temporary, yet our industry has now reached an impasse that is severely impacting the recovery of our airline and sector," WestJet interim chief executive Harry Taylor said on 7 February. "The time is now to present a path forward that is in line with our global counterparts, reflective of current data and once again makes travel accessible and affordable for Canadians."
Air Canada on 10 February said: "We believe our country should align with the emerging global consensus and adjust our policies to better match the diminishing risks of the pandemic, including a plan to remove restrictions and testing requirements for fully vaccinated travellers."