Canada will begin to ease travel restrictions for travellers vaccinated against Covid-19 beginning on 5 July, but has yet to present a comprehensive re-opening roadmap following the global pandemic.
The government in Ottawa says on 21 June that it will ditch the mandatory quarantine requirement for Canadians and permanent residents returning home from abroad, as long as they are fully vaccinated. Other rules, however, remain in place.
Foreign travellers continue to be banned from entering the country, and the border between Canada and the US will stay closed until at least 21 July. That frontier has been effectively sealed for non-essential travel since March 2020.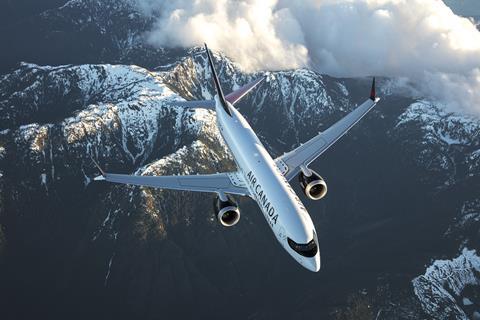 Arriving passengers "will still need to meet a series of requirements including pre-departure and on-arrival testing," Canada's health minister Patty Hajdu says, adding that the government will also "continue to monitor positivity rates and variants".
Canadian airlines welcomed the announcement, but noted that the country is lagging behind when it comes to developing an overarching reopening strategy.
"Easing quarantine restrictions for fully vaccinated Canadians and eligible travellers is a step in the right direction, but falls far short of the recommendations provided by Health Canada's Expert Advisory Panel report released last month," says Mike McNaney, chief executive of the National Airlines Council of Canada (NACC) which represents the country's major passenger carriers.
"The government continues to refuse to provide Canadians with a clear and comprehensive restart plan outlining how measures from the report will be adopted. While other countries like France have already changed their measures to welcome Canadian travellers, we still have no plan or clear time-frame in Canada."
"We must get moving now," he adds.
In late May, a government health board deemed the country's 14-day isolation rule for passengers arriving from abroad – which includes a three-day stay at a government facility at the travellers' own cost - as ineffective, costly and flawed. It advocated focusing on a stricter testing regime as well as vaccination.
In contrast to the easing of requirements for adults, the government says that children under the age of 18 who are not yet fully vaccinated must still adhere to a 14-day quarantine and will not be exempt from the relaxation of the rules in July.
"The government repeatedly states it is working with our international partners and following science, yet pursues initiatives such as mandatory quarantine for minors that is completely out of step with other jurisdictions," NACC's McNaney says.
Canadian airlines have been clamouring for easing of restrictions as the summer holiday travel season begins. The country has had some of the tightest and longest-running coronavirus mitigation measures in place since the beginning of the global health crisis. Provincial rules have added another layer of complexity to Canadian domestic air travel, further hampering the sector's recovery.