The government of Canada has published further information about its Covid-19 vaccination requirement for all air, rail and marine travellers, as well as employees in the sector, beginning at the end of October.
It had already said on 13 August that it would present such a vaccine requirement, but did not give details at the time.
"As of October 30, the government of Canada will require employers in the federally regulated air, rail, and marine transportation sectors to establish vaccination policies for their employees," the government writes on its website on 6 October. "Also effective October 30, travellers departing from Canadian airports, and travellers on VIA Rail and Rocky Mountaineer trains, will be required to be fully vaccinated in order to travel."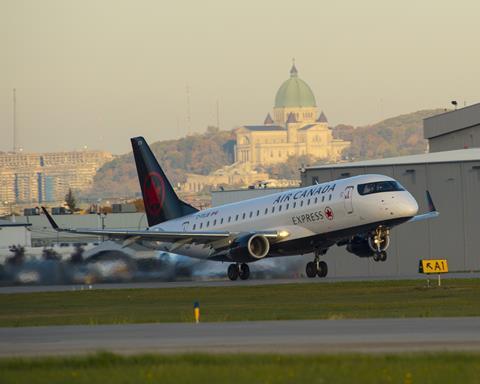 The order allows for few loopholes and even those will be closed a month later.
"For travellers who are in the process of being vaccinated, there will be a short transition period where they will be able to travel if they can show a valid Covid-19 molecular test within 72 hours of travel," the government says. "By November 30, all travellers must be fully vaccinated, with very limited exceptions to address specific situations, such as emergency travel, and those medically unable to be vaccinated."
"The government of Canada strongly advises any Canadians planning to travel by plane or train this holiday season to get vaccinated as soon as possible or they will be unable to travel," it adds.
But the announcement has Canadian airlines concerned they may not have enough time to prepare.
The National Airlines Council of Canada (NACC), which represents the country's major passenger carriers, welcomes the move, and says the organization is seeking "immediate engagement with officials" on how exactly the plan will work.
"Timelines are very tight to implement the travel rules. While we are committed to effective implementation it is imperative that the federal government quickly develop a standardized and digital proof of vaccination for air travel," says Mike McNaney, the trade group's chief executive.
This digital proof would be available "in the fall", the government had said earlier this year, but also did not give a set date.
"With aviation becoming one of the only sectors requiring fully vaccinated employees and customers, it is also imperative that the government work with us and determine what measures established prior to the full vaccination mandates can be amended, such as mandatory PCR testing pre-departure for fully vaccinated international travellers coming to Canada," he adds.
Transport Canada will be responsible for enforcing the requirement, with fines of C$5,000 ($3,969) for individuals and C$25,000 for companies that violate it, the government adds.
Meantime, in the USA, Senator Dianne Feinstein last week introduced legislation that would require all domestic air travellers to prove they are fully vaccinated against the coronavirus, or show a negative test result in accordance with guidelines set forth by the Centers for Disease Control and Prevention (CDC).
But there continues to be strong resistance to such a vaccine mandate for domestic passengers south of the border. Opponents say that forcing people to get the jabs and publicly state their vaccination status violates their personal freedoms. In addition, airlines are sceptical that such a proposal is even viable. In the past weeks, airline executives have repeatedly called a potential vaccine mandate for travel within US borders as "cumbersome" and "impractical".