The head of the Transportation Safety Board of Canada (TSB) has taken the unusual step of criticising Iran's conclusions into the downing of Ukraine International Airlines flight 752.
In an 18 March statement, TSB chair Kathy Fox says Iran's recently-issued accident report does not address Iran's underlying failure to prevent its military from shooting down the Boeing 737-800 on 8 January 2020.
"In short, the report says what happened, but doesn't address the why," Fox says. "It does not explain any of the underlying factors behind why the missiles were launched at PS752."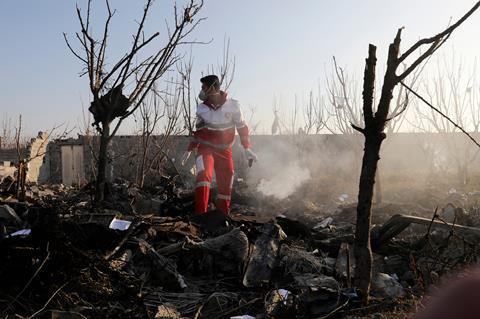 The Iranian Aircraft Accident Investigation Board's (AAIB) report, released in recent days, says the 737 crashed due to detonation of two surface-to-air missiles fired by an Iran air defence unit.
The unit had "misidentified" the jet as "a hostile target" amid heightened tension between the US and Iran, which hours earlier had launched missiles at US targets in Iraq, the report says.
The aircraft, operating flight 752 to Kiev, went down shortly after take off from Tehran, killing 176 people, among them 55 Canadians and 30 Canadian residents.
The TSB's Fox says her agency does not typically comment on other agencies' reports. "However, given this unprecedented situation, where the state whose military was implicated in the event led the investigation, and given its impact within Canada, we feel that it is important to publicly convey our independent assessment of the final report," she says.
Fox says Iran's report frames the incident "in the context" of Iran-US military tension. But it fails to describe Iran's missile-defence supervision and oversight practices, to address "underlying deficiencies" or to say what actions Iran has taken to prevent such future incidents.
"The AAIB says that military activities fall outside of the scope of" ICAO's accident investigation guidelines, Fox says. "We do not agree."
Fox also says Iran's civil aviation agency failed to warn airlines of military-related hazards, as ICAO recommends.
TSB representatives had some participation in the investigation. Iran granted Canada "more access to the investigation activities than we were technically entitled to, but less than what we asked for", says Fox.
For instance, the TSB was not allowed to hear the 737's cockpit-voice recorder or to access flight-data recordings.
Ukrainian authorities have also taken issue with Iran's findings, saying the incident was not caused by detonation of missiles but rather the attack by Iran on the aircraft. Ukraine said Iran's inquiry ignored failures on the part of Iran's government to control its defence systems.