A Cargolux Boeing 747-400 freighter suffered a "significant" landing incident at Luxembourg airport, where its right body landing gear bogie detached following an emergency landing.
The aircraft (LX-OCV, MSN29731) was operating flight CV6857 from Luxembourg to Chicago on 14 May. Cargolux, in a statement confirming the incident, says the aircraft was "unable to retract its landing gear" after take-off.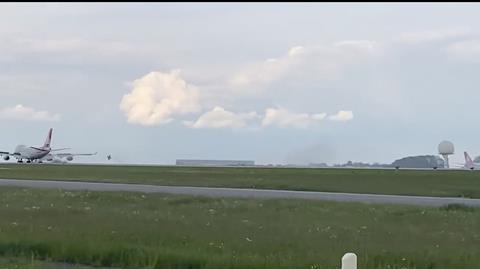 "As a result, it was forced to safely dump fuel in order to return to land at the airport. On its landing roll, its right body landing gear detached from the aircraft," the cargo operator states.
Flight tracking data shows the aircraft took off around 18:09 local time, and was airborne for more than 40 minutes before landing at Luxembourg airport.
Cargolux adds that the aircraft "came to a controlled stop" and confirms that no one was injured in the incident.
Social media footage of the aircraft landing shows the right body landing gear bogie detaching just as the aircraft lands on the runway. The gear is then seen bouncing off the right side of the runway and onto the grass patch.
Cargolux 747-400 flight #CV6857 LUX-ORD lost part of landing gear during emergency landing at Luxembourg airport pic.twitter.com/cI7ouy0IbX

— c-wizz (@chrivoge) May 14, 2023
Cargolux says the aircraft "remains on the runway" and recovery efforts – as well as investigations – are underway. Following the incident, the airport shut the runway, forcing the diversion of several flights.
The airport operator at 00:53 local time on 15 May says the runway has reopened and that flights are progressively resuming.
According to Cirium fleets data, the aircraft was delivered to Cargolux in 1999, and is powered by four Rolls-Royce RB211 engines. Cargolux has a fleet of 28 747 freighters in service, comprising 14 -8Fs, eight -400Fs and six -400ERFs.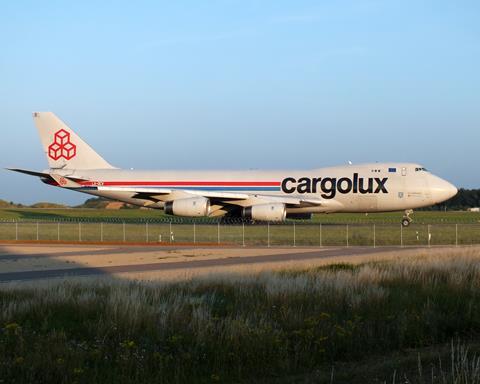 In 2010, the same aircraft was involved in another landing incident, where it struck an empty maintenance van upon landing at Luxembourg airport. The operator says the jet was operating in low-visibility conditions, and struck the van with its main-gear tyres.