While the US Centers for Disease Control and Prevention (CDC) has lifted most mask-wearing requirements for vaccinated people in the USA, it stressed that wearing a face covering while travelling is still mandatory.
The CDC says on 13 May that a vaccinated person "can resume activities that you did prior to the pandemic…. without wearing a mask or staying 6 feet apart, except where required by federal, state, local, tribal, or territorial laws, rules, and regulations, including local business and workplace guidance."
"You will still be required to wear a mask on planes, buses, trains, and other forms of public transportation travelling into, within, or out of the United States, and in U.S. transportation hubs such as airports and stations," the US public health agency says.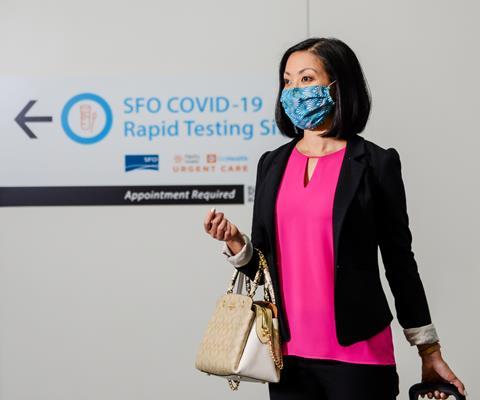 The FAA adds, "If you are fully vaccinated, you are still required to wear a mask while at the airport and on the plane."
The national mask requirement went into effect on 1 February this year, almost a year after most airlines introduced their own rules on face coverings. It was due to expire in mid-May, but last month it was extended until 13 September.
Aviation worker unions and airlines had lobbied the government to extend the mandate beyond its May expiry date, saying that national rule adds weight and helps them enforce mask-wearing on board aircraft.
"The aircraft cabin is an enclosed, pressurised, and increasingly crowded space as people return to the sky in fewer and smaller airplanes," Sara Nelson, president of flight attendant union Association of Flight Attendants-CWA (AFA-CWA) says on 13 May. "Rules for aviation safety are harmonised around the world, and we must have credibility in the safety of flight if the US aviation industry is to regain access to the rest of the world and fully recover."
While most air travellers comply with mask rules, US airlines have had to ban hundreds of passengers for various unruly behaviour that includes refusal to wear face coverings.
CDC says that as of 13 May, almost 155 million vaccines have been administered in the USA. Almost 59% of the adult population has received at least one vaccine dose, and nearly 46% have received two.