The pilot of a Cessna Citation 525B who made an emergency landing in Tampa last week did so after the aircraft suffered substantial damage to its left wing, including loss of an aftermarket winglet supplied by Tamarack Aerospace.
"The pilot reported that while in a cruise descent at an altitude of about 30,000ft… he felt two 'big jolts,'" says the National Transportation Safety Board (NTSB) in a preliminary safety report. "He looked out the left-side window and noted that the left winglet had separated from the wing."
The 525B (registration N869AC) had taken off on 30 March from Walnut Ridge in Arkansas, bound for Fort Myers in Florida.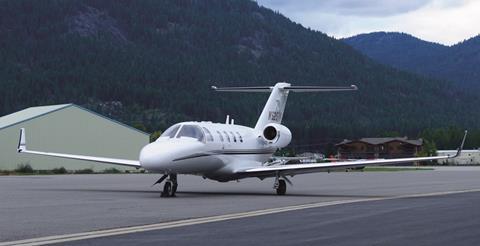 The pilot felt the "jolts" while over the Gulf of Mexico. He disconnected the jet's autopilot, declared an emergency and landed in Tampa, says the NTSB.
The safety investigatory agency has yet to say what likely caused the event. It notes the aircraft's "left wing extension and the left aileron were substantially damaged".
Cessna parent Textron Aviation did not respond to a request for comment.
The 525B was equipped with Tamarack's "Active Technology Load Alleviation System" (ATLAS) – an addition that includes wing extensions and control surfaces designed to alleviate loads and improve efficiency.
Investigators found that the 525B's "left wing extension, winglet and [control surface] were all missing" except for a 71cm (28in) section of the wing extension's leading edge.
Tamarack's ATLAS system has been cited as a factor contributing to previous incidents, including a deadly 525A crash in 2018.
But the NTSB has found no evidence that the aftermarket wing modification malfunctioned on the 525B involved in the 30 March incident.
"A (functional) built-in test of the ATLAS system was performed, and no anomalies were noted," says the NTSB's report.
The pilot told investigators that, after part of the wing separated, the aircraft exhibited "no flight control anomalies, but that there was some 'binding' of the ailerons on final approach", the NSTB's report says.
Installation of the ATLAS system on the 525B had been completed in December last year. Since then, during two flights, the winglet system had generated "fault alerts", says the NTSB. The pilot cleared both alerts by resetting a circuit breaker, and also reported no "flight characteristic anomalies" associated with those alerts.
The NTSB attributed the 2018 525A crash to "asymmetric" deployment of that aircraft's left-side ATLAS winglet. In 2019, the US Federal Aviation Administration grounded ATLAS-modified Cessnas pending modifications.
Tamarack challenged the NTSB's conclusions, insisted its winglets did not cause the 2018 accident. The company entered bankruptcy protection in June 2019, emerging in 2021.