Recent readiness flights suggest that the Boeing 737 Max could be on the verge of re-entering service in China and Indonesia.
Flight tracking sites show that a China Southern Airlines 737 Max 8 operated flight CZ2007 on 21 January, taking off and landing at Guangzhou International Airport.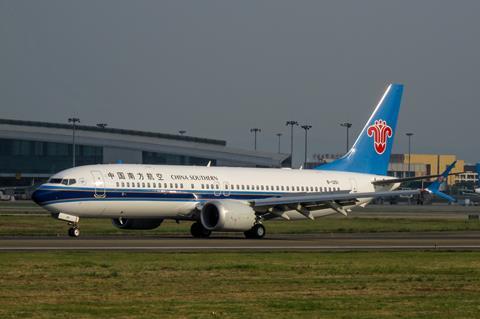 The aircraft took off at 10:28AM local time and flew to the northwest, where it conducted several circuits, before landing over three hours later at 13:53pm.
FlightGlobal understands this was a readiness flight carrying passengers.
Compatriot Hainan Airlines is also understood to have conducted readiness flights.
Indonesia's Lion Air appears to have conducted a similar readiness sortie on 21 January, with the 737 Max 8 registered PK-LQL operating flight JT5009 on the Batam Makassar route.
China and Indonesia were among the last two major jurisdictions to clear the 737 Max to return to service after the type's long grounding following a pair of fatal crashes – the first of which involved a Lion Air jet – in late 2018 and early 2019.
Boeing subsequently made changes to the type's flight control software, which was implicated in both crashes.
Beijing cleared the type to return to service in early December 2021, with Jakarta following a few weeks later.
Cirium fleets data shows that Chinese operators have a total of 100 737 Max jets in storage, with an additional 208 on order. Of the Chinese on order aircraft, which have yet to be delivered to the end customer, Cirium suggests that 75 are stored at Washington's Grant County International Airport, with small numbers of other aircraft stored at additional locations.
As for Indonesia's airlines, Cirium indicates that 10 aircraft are in storage. In addition, Indonesian airlines have 286 737 Max on order, with eight of the on order aircraft located at the Grant Country location.
Lion accounts for the majority of Indonesia's Max orders, with 233 on order, followed by Garuda Indonesia with 49 on order.