Cirrus Aircraft, maker of high-performance single-engine aircraft, has grounded its SR22 and SR22T models after "an issue" was discovered with its Continental Aerospace engines.
The grounding is for Cirrus-owned and operated aircraft only, but was revealed in an email to all of the types' owners on 8 February.
"Cirrus Aircraft has been informed by Continental…of an issue that affects engines that power both Cirrus Aircraft's SR22 and SR22T models," the company says in the email.
"While we are still working with Continental to determine the scope of the issue and the specific serial number range of affected aircraft, we are pro-actively making the decision – out of an abundance of caution – to pause all internal Cirrus Aircraft company flight operations on SR22 and SR22Ts manufactured and issued a Certificate of Airworthiness from June 1, 2021, through February 7, 2023," Cirrus adds.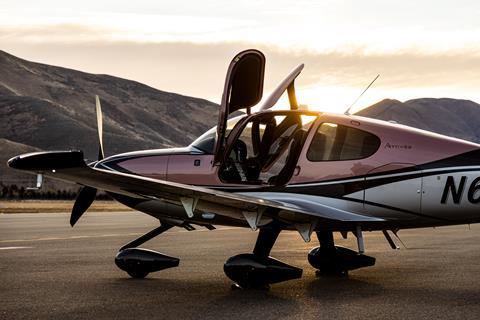 The company did not say how many aircraft this affects, but according to Cirium fleets data up to 700 of the two types certified during the specified time frame could be flying around the world.
The Federal Aviation Administration says it is "investigating the issue and is evaluating possible next steps".
"Continental is pro-actively working with the FAA as a standard protocol for a situation of this nature," Cirrus adds. "We are unaware if the FAA will choose to issue an AD for this issue."
Duluth-based Cirrus says that it continues to operate all its SR20s, as well as SR22s and SR22Ts manufactured before June 1, 2021 or after February 7, 2023, without restrictions.
"We anticipate Continental to issue a Service Bulletin in the near future, which will detail the specific range of affected aircraft, the root cause of the issue and corrective action," the company says. "The Continental Service Bulletin will accompany a Cirrus Aircraft Service Advisory notification."
Last July, the US regulator issued a sweeping directive to address a long-standing tailpipe problem potentially affecting 41,000 US-registered aircraft with turbocharged reciprocating engines, including some Cirrus models.
The AD required operators to replace "v-band couplings" in turbocharged engines because "spot welds" on those couplings were subject to fatigue failure. V-band couplings attach "the exhaust tailpipe to the turbocharger exhaust outlet", the FAA said.