South African carrier Comair has submitted documentation aimed at enabling it to resume operations after the country's aviation regulator indefinitely suspended the airline's operating licence in relation to "a spate of occurrences" affecting a number of flights.
The South African Civil Aviation Authority (SACAA) had initially issued a 24h precautionary suspension of Comair's air operator certificate (AOC) following an inspection on 12 March. While noting the carrier's quick response to the findings had already rectified one of the operational issues raised, SACAA on 13 March indefinitely suspended Comair's AOC pending resolution of the other issues.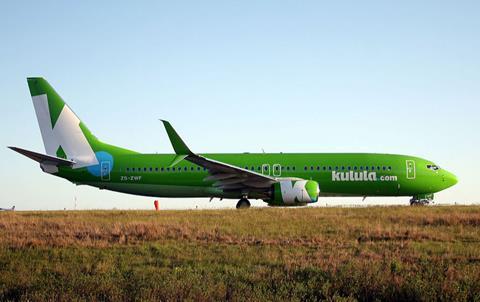 Comair operates franchise flights for British Airways as well as the budget brand Kulula.
SACAA says it investigated the carrier to "determine the cause of a spate of occurrences affecting a concerning number of flights operated by Kulula.com and BA Comair". It sought to confirm Comair's compliance with aviation regulations and as well as reviewing its quality control and safety management systems.
"This resulted in the regulator raising three Level 1 findings, and one Level 2 finding," it says; Level 1 findings are those judged to pose an immediate risk to safety.
"SACAA recognises the efforts of the operator to close the findings as speedily as possible and in this regard the operator started dispatching the evidence to the regulator from the evening of 12 March 2022," the regulator says and it continues to assess further evidence put forward by the airline.
Comair says it is unable to confirm when it will start flying again, but notes it has providing documentation the regulator requested.
"We have since received an acknowledgement that the information has been received, but no other formal communication has been received to date," says Comair chief executive Glenn Orsmond.
"This is a huge blow to our customers, employees and the flying public as it effectively takes 40% of the capacity out of the market. The implications for the aviation sector and the country are considerable should the suspension continue for any length of time."
He says the airline is continuing to engage with the SACAA in a bid to get the suspension lifted but has been forced to cancel flights indefinitely as it cannot say when this may occur.
Comair resumed operations in December under new ownership after a formal business restructuring. Cirium fleets data shows the airline had 10 aircraft in service: seven Boeing 737-800s and three 737-400s.