Continental Aerospace Technologies has identified a safety issue with several types of its general aviation engines, and recommends that operators voluntarily ground the aircraft until they can be inspected.
The company said on 10 February that it will issue a service bulletin for the engines, some of which earlier this week were cited as having "an issue".
"Continental has identified a potential safety of flight issue for aircraft equipped with Continental 360, 470, 520, 550 series engines and replacement crankshaft assemblies," the enginemaker says. "Consequently, Continental is pre-emptively advising that an inspection should be performed to confirm that the crankshaft counterweight retaining ring was properly installed in new and rebuilt engines assembled between June 1, 2021, and February 7, 2023."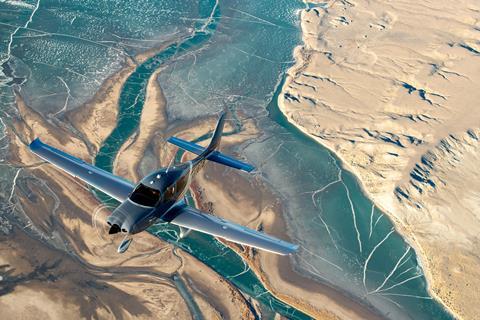 The advice also applies to replacement crankshaft assemblies manufactured during the same time frame, the company says.
"Continental proactively recommends that all flights powered by the aforementioned engines with less than 200 operating hours be limited to five additional flight hours with the essential crew to position the aircraft at a maintenance facility," the company adds.
Engines with more than 200 hours "may continue normal flight operations".
Cirrus Aircraft, maker of high-performance single-engine piston aircraft, told owners of their aircraft on 8 February that it had grounded its SR22 and SR22T models after the engine issue was discovered. Cirrus did not say how many aircraft the warning might affect, but according to Cirium fleets data, up to 700 of the two types which were certified during the specified time frame could be flying around the world.
"While we are still working with Continental to determine the scope of the issue and the specific serial number range of affected aircraft, we are pro-actively making the decision – out of an abundance of caution – to pause all internal Cirrus Aircraft company flight operations on SR22 and SR22Ts manufactured and issued a Certificate of Airworthiness from June 1, 2021, through February 7, 2023," Cirrus said at the time.
The company added that all of its SR20 models and its SR22 and SR22T models certified outside of that time period remain in operation.
The Cirrus aircraft are often used by flight schools for pilot training purposes.
The Federal Aviation Administration said on 8 February that it was "investigating the issue and is evaluating possible next steps".