Continental Aerospace Technologies has issued a mandatory service bulletin (SB) for some engines that power common single-engined piston trainer aircraft.
The bulletin, dated 13 February, responds to unspecified "safety issues" first publicly reported by Cirrus Aircraft earlier this month.
It instructs owners and operators of aircraft with the 2,000 affected engine crankshaft assemblies to inspect them "for proper counterweight installation". The inspections are to take place "immediately" for engines with less than 200 operating hours, though operators can first operate aircraft up to five hours for the purpose of relocating them to maintenance facilities.
"It is possible one or more counterweight retaining rings were not properly seated in the crankshaft counterweight groove," the bulletin reads. "This condition could allow the counterweight to depart from the crankshaft during engine operation resulting in catastrophic engine damage."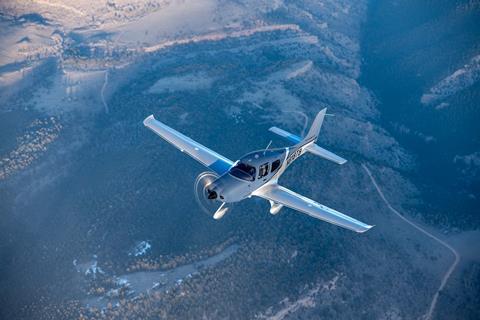 The engine maker expects the work to take 10.75-22.75h of labour per aircraft – and it will cover the expense under warranties. The vast majority of the work involves removal and re-installation of engine cylinders. The bulletin also affects replacement parts, not installed in aircraft, for which 0.75h will be covered.
The Federal Aviation Administration has not issued an airworthiness directive for the issue. But on 14 February the FAA said it is investigating the issue and "evaluating possible next steps".
On 8 February, Cirrus Aircraft, the Duluth-headquartered maker of high-performance single-engine aircraft, grounded its own SR22 and SR22T fleet after "an issue" was discovered with its Continental Aerospace engines. The grounding was for Cirrus-owned and operated aircraft only, but was revealed in an email to all owners of the types.
The issue affected the company's SR22 and SR22T models which had been manufactured between 1 June 2021 and 7 February 2023. Aircraft not built during that time, and the company's SR20 models, continued operating without restrictions.
Two days later, Continental acknowledged the "potential safety of flight issue for aircraft equipped with Continental 360, 470, 520, 550 series engines and replacement crankshaft assemblies" and recommended operators ground their aircraft pending a service bulletin. The advice also applied to replacement crankshaft assemblies manufactured during the same timeframe, the company said at the time.
Paul Sallach, founder and president of All In Aviation in Las Vegas, which has 14 Cirrus aircraft in its training and rental fleet, said on 11 February that the problem caused disruption for all Cirrus training centres with the newer aircraft. The flight school voluntarily removed two aircraft from service while waiting for further instruction from Cirrus and Continental.
After receiving Continental's bulletin, Sallach said on 14 February that just one of his aircraft will require the fix.
"The shop ordered parts and tooling, and then they can get to work," he says. "It sounds like the inspection should be three days' worth of labour [and] time."