The coronavirus pandemic continues disrupting US air traffic control (ATC), with the Federal Aviation Administration now temporarily shutting the New York Air Route Traffic Control Center and New York LaGuardia airport's control tower.
Already this week coronavirus infections disrupted ATC facilities at Las Vegas, Chicago, Indianapolis and New York John F Kennedy International airport.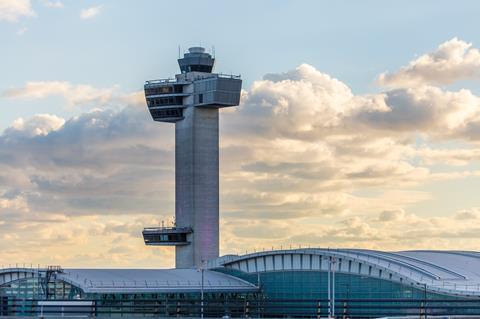 The latest New York closures are due to the need for "sanitation" and to "protect the health and safety of employees", the FAA says.
"The Federal Aviation Administration is experiencing an increase in COVID-19 cases at air traffic facilities and other offices across the nation," the agency says. "We are experiencing this at the handful of facilities already affected by COVID-19. This is frustrating and inconvenient, but is necessary in the interest of safety."
The New York Air Route center shut at 23:30 local time on 21 March and will open at 06:30 on 22 March. LaGuardia's tower closed at 23:00 on 21 March and will open at 06:00 on 22 March, the FAA says.
"Effects on traffic are expected to be minimal due to the low volume during those hours," the FAA says.
The agency calls its operations "resilient and flexible", and notes its facilities have contingency plans that include transferring duties to non-affected sites.