Delta Air Lines and at least one airline union are calling for creation of a wider "no-fly list" for "unruly" passengers, a move aimed at countering a spike in the number of passenger-related in-flight disturbances.
Support for such a list comes as a US congressional committee held a 23 September hearing into "the surge in air rage".
Since the start of 2021, Atlanta-based Delta has added some 1,600 names to its internal no-fly list of disruptive passengers, and has submitted 600 of those to the Federal Aviation Administration, the airline told employees in recent memos.
"We've also asked other airlines to share their no-fly list to further protect airline employees across the industry… A list of banned customers doesn't work as well if that customer can fly with another airline," says Delta's memo, sent by senior vice-president of in-flight service Kristen Manion Taylor.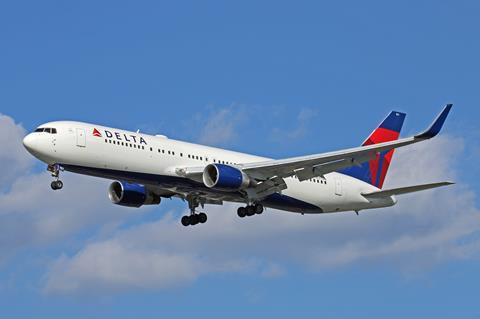 As of 21 September, the FAA had received reports this year of 4,385 cases of unruly passengers. It had initiated 789 investigations into the incidents and has issued fines totaling more than $1 million, says the agency.
The FAA has said the rate of such incidents spiked amid the pandemic, with many being related to the government's face-mask mandate. The agency in January implemented a "stricter legal enforcement policy" to address the problem.
Sara Nelson, international president of the Association of Flight Attendants-CWA, was among those to submit testimony for the congressional hearing, held by the House of Representatives' Committee on Transportation and Infrastructure's aviation panel.
"These numbers are staggering and, if they continue at this rate, may result in more incidents in 2021 than the entire history of commercial aviation," says Nelson in written testimony. A survey by the union found that 85% of flight attendants reported encountering "air rage" in the first half of 2021, with 58% experiencing at least five incidents.
Asked to comment about its efforts to combat such incidents, the FAA says it "is meeting with airports, airlines, unions and others to discuss what additional steps the FAA and our industry partners can collectively take".
Nelson calls on the US Department of Justice to criminally prosecute offenders, for airlines to "limit" alcohol sales and for the banning of "to-go" drinks sold by airport bars. Nelson also urges for the creation of "a centralised list of passengers who may not fly for some period of time, and provide airlines with access to the list".
In a 23 September letter to the chair of the House transportation committee, the Air Line Pilots Association, International says that "government and industry must… deter such behaviour by making clear the certain and serious consequences".
"The full force of federal law and criminal prosecution must be applied to individuals who conduct such acts," ALPA's letter adds.
Other US airlines have not gone so far as to publicly support sharing names of troublesome passengers – a move that could raise privacy or anti-trust red flags.
Airline trade group Airlines for America, which says it is working with government to address the problem.
"We also continue to advocate for increased and expedited prosecution for criminal cases of unruly passenger behaviour by the Department of Justice," the group adds.
Likewise, Southwest Airlines says it is working "with our unions, with other airlines and with the FAA to brainstorm ways to further prevent unruly situations and conflict escalation, including sharing best practices with other airlines".
United Airlines did not respond to a request for comment, and American Airlines deferred comment to Airlines for America.